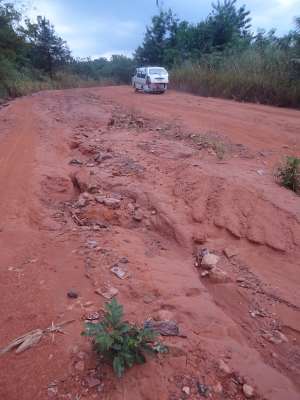 September 18, 2012, Odumase-Krobo: Drivers in Krobo have said that they would soon boycott the payment of Road Worthy Toll and other such payments to the Driver and Vehicle Licensing Authority (DVLA) because their vehicles "are worthier than the roads" in the area.
They indicated that they would in addition withdraw their services as a way of conveying their displeasure to the authorities over the terrible state of roads in the area which have been left unattended to for years despite their persistent complains.
Roads in the area particularly the Odumase-Oterkperlu and the Kpong-Somanya route have deteriorated over the years without any form of maintenance, causing lots of accidents, damaging the cars that ply the route and hampering business activities.
Now fewer vehicles go to Asesewa, Sekesua, Akateng ( all of which are major foodstuff growing areas in the Eastern Region) and this has compelled the drivers to overload (both human beings and foodstuff) even under the watch of the Police. Others too have resorted to taking a detour through Somanya-Nkurakan instead of using the main
Odumase-Asesewa road, forcing a hike in fares to the inconvenience of business women and commuters in general.
Mr. Opata Kpabitey, Secretary of the Odumase branch of the Ghana Private Road Transport Union (GPRTU) said "the roads are not vehicle worthy hence we see no reason why we should continue to pay the huge sum charged by the DVLA for road worthy certificates" as well as the numerous tolls we pay on the road".
"The roads have virtually become a death trap with lots of accidents characterized by loss of lives because drivers dangerously swerve the gaping potholes, even using the opposing lane in the process. We dread what might happen as the Ngmayem festival approaches hence our proactive step", he indicated
The state of the roads has mainly been attributed to the activities of the heavy duty tipper truck transporting limestone from the area to Tema to feed the Ghana Cement Company.