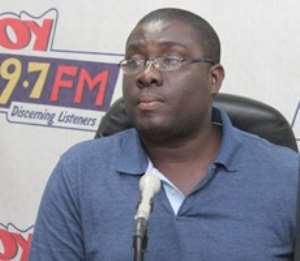 A Deputy Communication Director of the opposition New Patriotic Party (NPP), Samuel Awuku says the "uninspiring care taker ticket" of the ruling party poses no threat to his party's chances of winning the December polls.
He stated that track record of the Mahama/Amissah-Arthur government in the management of the country's economy will speed the ruling National Democratic Congress (NDC) into opposition.
"I am not surprised; with this ticket it's a done deal. The NDC will run into opposition like Usain Bolt" Awuku said.
The NDC has kick-started its crusade to retain power three months into the elections after the party's National Executive Committee (NEC) unanimously endorsed Vice President, Paa Kwesi Amissah-Arthur as running mate to President John Mahama ahead of the December polls.
The President elated by his choice for a running mate during the outdooring ceremony said the NDC is ready for battle for the electioneering campaign and was certain that the party will be victors.
Speaking on Ekosii Sen programme on Asempa FM Wednesday, Sammy Awuku said the NDC has worsened its electoral fortune by choosing someone he says has no charisma for the political game.
According to him, Amissah-Arthur even as vice president has not been marketed enough to Ghanaians therefore he doubts how his [Arthur] candidature will pull the needed votes for the party.
Sammy Awuku noted that the 'stop-gap' team [Mahama/Amissah-Arthur] of the NDC has ran the country into an abyss and thus a second term in power will mean a total collapse of the economy.
The NPP Deputy Director of Communication explained that President Mahama who led the Economic Management team with now Vice President, Amissah-Arthur in charge of monetary policy as Governor of the Bank of Ghana are responsible for the country's economic woes.
He said under the so-called Better Ghana, the cedi has lost its value against the dollar, a situation he claims has affected many businesses across the country.
Given this record, Awuku maintained that the Mahama/Amissah-Arthur ticket is no match for what he calls a formidable Nana-Bawumia ticket.
He said Nana Akufo-Addo as an experienced lawyer and Dr. Mahamudu Bawumia an astute economist are tried, tested and ready to accelerate Ghana's development through prudent management of the economy if voted into power.
Sammy Awuku reiterated NPP's preparedness to save Ghanaians from the shackles of poverty the NDC has plunged them into.