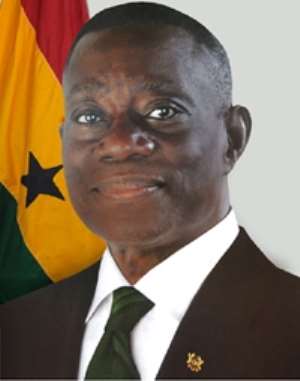 There was a publication on the ghanaweb.com homepage on the 26th July 2012 by one Adumua Sam, "Rawlings and Konadu, are you happy ?"
I consider this headline to be extremely insulting and slanderous. Furthermore, one Brigadier General Kpornyo at the 37th Military Hospital in Accra also made an erroneous statement about how the late President was transported to the 37th Military Hospital in Accra.
Okudzetos' statement
The above mentioned lawyer made the following statement: "I blame the government officials for the over-politicisation of ex-President Mills' illness, which blinded them to his health-limitations and caused his death."
The lawyer went on to say "Mills should have been advised to resign and hand over his duties to Mahama, to execute the rest of his mandate, while he receives proper treatment and rested."
Comments
Exactly two weeks before the untimely death of the President, I called on the telephone the National Security advisor Brigadier General Nunoo-Mensah and suggested help. Details of the nature of the help will not be disclosed here.
I told the Brigadier that the picture of the late President I saw on the internet, gave me the impression that the condition of the President had worsened. The Brigadier did not refuse the help but said he would consult the late President's brother and come back to me. He did not come back to me as promised. On the 24th July, afternoon, while driving home from my surgery, my son informed me of the untimely death of our late President. I was shocked and saddened by this news.
One can imagine, how disappointed I was, when another Brigadier, whose name I have previously mentioned, is said to have dismissed reports that the late President was transported to the Hospital in a Kia van. This form of transportation however is not at all strange to me, because, while I was in Ghana on holidays I fell ill and found myself suddenly been transported by a taxi driven by a woman in civilian clothes to the UST Hospital. What I find unacceptable and strange, is the apparent justification for the transportation of the late President by an ambulance accompanied by a doctor and two paediatricians.
Please note that paediatricians have been employed to transport a dead president by an ambulance to 37th Military Hospital. Is this a joke ? The Brigadier is telling the whole world that a dead president received care from the health personnel which according to him are paediatricians. Is this Brigadier General serious or is he joking ?
A man, who has apparently no vital signs recorded and has massive blood coming from the nose and mouth is definitely a dead person. Any-time you see these signs, one thinks of acute pump failure of the heart. For instance, if the metastases of the throat cancer perforate the carotis artery it is clear that the patient will bleed to death if help is not readily available.
Emergency facilities at the Castle
What sort of emergency facilities do they have at the castle to save the life of our Presidents ?
Can cardiac arrests be treated at the Castle ? Can cardiogenic shock be treated at the Castle ? Can cardiac arrhythmias be treated at the Castle ?
If the listed conditions cannot be treated in an emergency set-up at the Castle and there was no doctor available, why was the dear old President not transported via helicopter instead of an ambulance ? A journey that will take significantly longer in this heat and during the notorious traffic-jams in Accra. Where was his motorized escort ? We are informed, he had given them to his sisters, for their journey to Cape Coast.
What have the Rawlingses got to do with this primitive behaviour ?
They mess-up and then put the blame on Rawlings.
Negligence
The following apparatus are used for cardiac emergencies:
Cardiac pacing, temporary cardiac pacing, long-term transvenous cardiac pacing, defibrillation and cardioversion, cardiac monitoring systems and finally drugs used for cardiac emergencies. The fact that these equipment and medicines were not available is a clear indication of pure negligence.
The best person who would have helped
... is Professor Kwabena Frimpong-Boateng, who lost his job because he happens to be an Ashanti.
This Brigadier Kpornyo has honestly shocked the world with his revelation that, what I consider to be a dead body and he considers to be a living person was transported to 37th Military Hospital with the help of two paediatricians.
It is shocking and misleading, because a person that is found bleeding massively from the nose and the mouth and apparently has no vital signs is clinically dead. If he is not bleeding and is not dead, then why send paediatricians to a person in an emergency ?
Further examples of negligence
Now we are told the late President complained of neck pains. What we are not told is whether he received professional medical attention for the neck pains or someone practised "self-medication" by "prescribing" a neck-collar for him.
This again shows pure negligence - harmful and stupid.
Possible causes of the neck pain
It has been established that space-occupying lesions in the brain can cause head-ache by exerting traction upon the intra-cranial blood vessels, especially perhaps those at the base. Meningeal irritation is probably what he had. This irritation of the meninges is either by inflammatory exudate in meninges or by extravasated blood in subarachnoidal space causing severe head-ache. It can also be due to displacement of blood-vessels by metastases. It is therefore clear that our late President should have immediately been transported by helicopter to the cardio-thoracic unit at Korle-Bu Hospital. Instead, the relatives resorted to self-medication and backwardly singing and praying. The poor, lovely President had to choke on his own blood and now we have the biggest cover-up of the century by those who left him to die alone.
I am sad. I am shocked. And above all, I am annoyed that our dear old President Rawlings and Mrs. Konadu Rawlings are been made scapegoats for other peoples' brutal negligence.
The actions of negligence so far described have been so immense, so unbelievable, so incompetent, so ignorant, so selfish and its excuses and justifications so amateurish, contradictory and inconsistent, that it all borders on the definition of manslaughter and its cover-up and should be investigated by CID in Accra. This is a Problem of historic magnitude and importance. There is no alternative.
Dr. Edward Kwame Poku,
Consultant Physician Specialist