Dear readers,
This is continuation of the account of my journey across West Africa. I hope you enjoy the read.
Journal entry – Start
Date: 13/11/11
Location: Bamako, Mali
Time: 1:03PM
The minivan to Conakry is full after waiting for hours.
I'm heading to Coyah, western Guinea.
Sharing the single front passenger seat with a middle aged woman.
Entry conclusion 
The existing social arrangements in Mali have tremendously impacted my impression about the human condition
Journal entry – End
Commentary
I did not really know the direction we were heading but I did know that in any case we have to eventually end up at Kouremale, the border between Mali and Guinea. This effort should bring me to the north and through the very heart of Guinea. I expected to come through cities like Siguiri, Kankan, Mamou, Kindia and eventually to Coyah, where I would continue west to Pamalap, the Guinea-Sierra Leone border town.
I have condemned myself to freedom and must face the consequences. I started to miss my family, friends and most especially my bed. I thought of making myself some jollof in my kitchen at home. It is true that I was missing some familiar companionship but there are very few with whom I could relate to even if I were home. Most people I know are consumed by things and do not really understand the essence of genuine human relationship. I see beauty in the way people around me cannot understand. There is an innate and strong desire in all of us to seek happiness in any form we can. To go away for a while to me was an expression of this desire. Though it is true we need food, clothing, shelter and some material things in order to survive, it's my belief that a life devoid of genuine and sincere human relationship is meaningless.
I wasn't really surprised by the condition that two of us have to occupy the single front passenger seat because this phenomenon is practiced around rural areas in Ghana, but to be crammed in a single seat with another person plus 11 passengers in a minivan for about 1000km journey wasn't something I was looking forward to. To be comfortable, I'd have to pay twice to enjoy the luxury of one seat but that was beyond my budget. I wasn't out there looking for comfort so it turned out as it were to be the least of my concerns at that moment.
We used the Kalabanbougou route. The geologic formation of this area is breathtaking. We crossed both Kouremale and the Guinean side of the border by 4:50PM and continued to the northeastern region of Guinea. We came through Simba, Tomboko, Biramfero, Banankora and finally to Siguiri, a city situated on the Niger River around 5:30PM. We continued south and drove over River Tinkisso. The sunset on the river was amazing. About 3km further south was the location where River Tinkisso runs into River Niger. It was a marvelous sight to behold. Tembakunda, River Niger's main source is about 70km further south from this area. River Niger is the longest running river in West Africa and the only third in Africa after the Nile and Congo River. It runs from central Guinea through Mali, Niger, Nigeria and empties into the Gulf of Guinea through Niger Delta. I have already seen the trail of the river in Bamako and will see it again in Niger and Nigeria in the coming weeks.
We continued south through Karakoro following the snaky trail of River Niger, to Kankan, the second populous city in Guinea around 7:15PM. To our surprise, the driver decided to abandon us here to find different means to our various destinations since he's missing two passengers. Two passengers came along whilst we were protesting the decision so we continued south throughout the night through Dabola to Mamou. The driver will run over different kinds of animals on the unpaved and dusty roads and will stop and pack them into the trunk. We drove slowly when we came through the thick forests. This was a precaution to avoid running into wild animals. I drew the driver's attention to parade of elephants we nearly run into. Crammed in, I remained awake throughout the night navigating the unpaved roads with him. It was amazing to do this. I have always imagined myself in the middle of thick forest doing exactly what I was doing.
Journal entry – start
Date: 14/11/11
Time: 2:35PM
At Coyah township. The long distance taxi is about half full. Hopefully the road to Pamalap is paved.
Had little sleep. Was up all night. Tired and exhausted.
Entry conclusion
So far one thing is becoming clear to me. Ghana, Ivory Coast, Mali, and Guinea – we seem to share common problems. We seem to apply very little effort into solving the problems around us.
Journal entry – end
Commentary
We came through Marga, Sugeta, Fofota, and finally to Kindia where we had to stop for a while to service the car. The junction to Coyah was finally at sight after over 24 hours of constant journey. I made it to the Junction around 1:30PM and took a motorcycle to the Township to join transportation to Pamalap, the Guinea-Sierra Leone border town. We left Coyah around 3:30PM in a long distance taxi and came through Laforedaka, Yoreya, Forecaria to Pamalap around 6PM. There was another Peugeot long distance taxi heading to Freetown, the capital of Sierra Leone from this area so I quickly joined. The Guinean side of the border was an easy cross, unlike the Sierra Leonean.
"What is your purpose of visit to Sierra Leone?" The Sierra Leone immigration official inquired.
"Just to see uhmm your country…nothing else," I responded.
"Tourism?" He further inquired.
"Yes that's right," I responded.
"A Ghanaian coming to Sierra Leone for tourism?" He continued interrogating me, "No way…that's not possible."
"Are you sure you are Ghanaian…not Nigerian?" He continued the interrogation, as he took my passport.
"…but why did you come through Guinea?" He questioned, trying to flip through my passport at the same time, "It doesn't make sense…no I will not allow you into Sierra Leone because I find it hard to believe you are here just to see Sierra Leone"
"Well…because that's where I came from," I responded, "you should know Mr uhmm...what is your name please?"
"You don't have to know my name my friend," he responded.
The exchanged went on for few minutes and my final response was like this,
"Sorry officer I don't think you have any basis to refuse me entry into Sierra Leone," I argued, "the fact that I came through Guinea is not good enough. I have every right under the ECOWAS treaty to access your country and to refuse me under no basis would be a violation of the treaty."
"What…what…what treaty?" He toned his voice as he inquired.
"Article 3 uhm and 34 of the ECOWAS treaty which your country is a member," I answered.
"I see…you came prepared…you know all of that," he continued.
To which he continued as follows,
"Okay then you must pay 30,000 Leones," he demanded.
"I don't have much I will pay 20,000," I quickly bargained.
"Okay bring it…how long should I permit you to stay in Sierra Leone?" As he got ready to stamp my passport.
"May be two days….three days," I answered.
"One month…or?" He inquired.
"I will give you 72 hours then and make sure you let me see you before existing because I find it hard to believe you are here just to see Sierra Leone…hmm," he continued.
I gave him the 20,000 Leones and immediately whisked it into his pocket and at that point, he looked right into my eyes and winked. 'No hard feelings…just business' I thought was what the wink implied.
Twenty thousand Leones was about 7-8 Cedis then. I realized this was a lot of money as it read into thousands. It was a good bargain for me. The Sierra Leonean passengers in the long distance taxi were getting impatient with the impasse so I had to get him off my back as quickly as possible so I don't become the obstacle because everyone was in a hurry to make it to Freetown before midnight.
"Oh..oh..ohh…ooohhh…uh you paid 20,000 Leones?" My fellow passengers shouted as we continued our journey.
I actually brought with me copy of the ECOWAS treaty in the case I run into such scenarios. I know it can be difficult sometimes but at least it helped. Always make sure you know the rules and regulations of the country you are visiting.
We left Kambia and continued south through Maifa, Magbema, Makali, Port Loko to Konno Town. Kono is the diamond rich area of Sierra Leone. This area perhaps was the most chaotic and devastated area during the civil war. This area featured the plot in the Blood Diamond film featuring Leonardo DiCaprio. Further forward were Waterloo and the Small Boys Unit area. These were the famous areas children were recruited and trained by the militants during the civil war. The child soldiers would be unleashed from this area to cut the limbs, mutilate and freely shoot the civilian population. The sight of the area was depressing.
The young couple I sat next to started to curse each other very loud in the car. Something was not right. They spoke Creole…sounded similar to the Nigerian Pidgin. They continued cursing each other in the car. There was a woman breast feeding her baby in front of me so it reminded me of an Irish joke I once heard so I decided to break the fight and tell them the joke. Sierra Leone is an English speaking country so I didn't have any communication issues. Well the joke worked. I told the joke.
A young beautiful woman sat in the bus with Murphy, and started to breast feeding her baby. "Eat it or I will give it to the man over there," she pointed to Murphy as she played with the baby.
About twenty minutes later, she again repeated it and said, "Eat it or I will give it to the man over there," Murphy continued reading his magazine.
Another twenty minutes goes by and the woman picks the baby up once again. "For f**k's sake," Murphy said, "Make your f***king mind up. I was supposed to have got off four stops ago."
The whole taxi lighted up into laughter. The couple laughed and laughed. The young bride nearly chocked from laughter. They ended up holding and kissing each other in the car after the laugh. It was such a romantic scene.
We came through Hastings and finally to Freetown around 10PM. The road from Kambia to Freetown was very good so we arrived on time. The reunited couple assisted me in finding accommodation in the middle of the city. They were very kind.
I finally settled in my hotel which was at the center of downtown Freetown. I was at the center of Freetown and the nightlife was at my very door steps. An old fella occupying the room next to mine seemed excited about the atmosphere so he came with me downstairs to have a feel of the nightlife. He was probably in his 60s if I'm not mistaken. He works for the local government in the eastern part of the country and stays at the hotel whenever he's in Freetown. It was like the Singapore's Geylang streets; broads stood at almost every corner, whistling and winking at us. The cafés and inns were almost like the depictions in the Blood Diamond film; busy, noisy, beer on almost every table and broads walking about. I couldn't stay up long so retired back to my room and had a sound sleep.
I woke up in the middle of a very busy city center, checked-out and started my day. The 'Cotton Tree' was the first thing I wanted to see. Legend has it that the first African American slaves who settled on the African continent after gaining their independence first landed around this site in the late 18th century. After landing on the shoreline, they walked up to this giant tree, held a thanksgiving service and thanked God for their deliverance to a free land. This giant tree is held as an historic symbol in Freetown. I navigated myself to the tree which is near the Supreme Court, sat opposite it and attended to my eyes for a while.
I decided to hop-on any coming public transportation to any end at all.
"Lumley! Lumley!! Lumley!!," a taxi driver called. I jumped in quickly as there was throng of people looking for transportation. "Where are you going?" The taxi driver inquired. "Anywhere...to the last stop" I responded. I ended up at a beach area where I spent few hours walking to the other side of the shoreline.
Next Episode
The push to north continues. Make a time same day next week.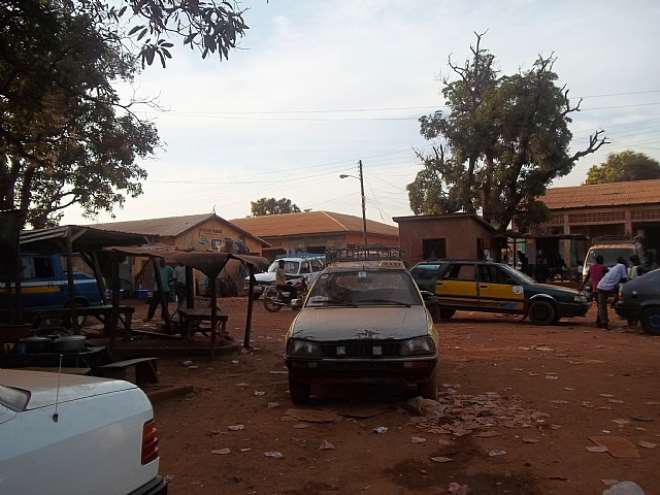 Siguiri, northeastern Guinea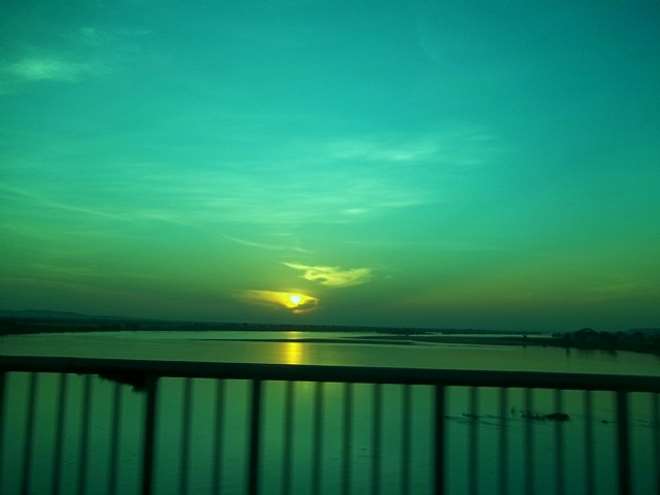 River Tinkisso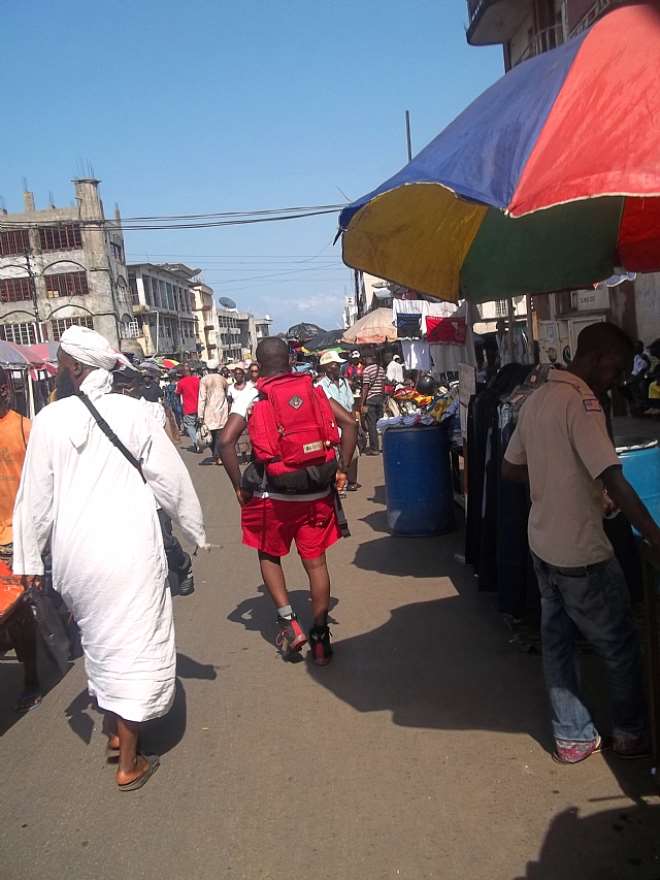 Downtown Freetown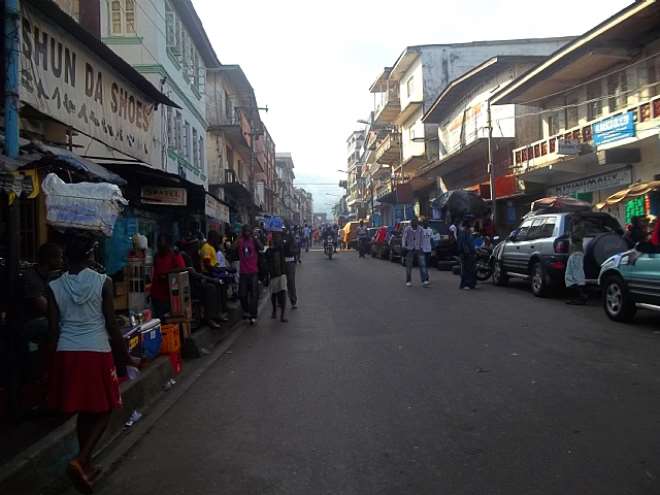 Downtown Freetown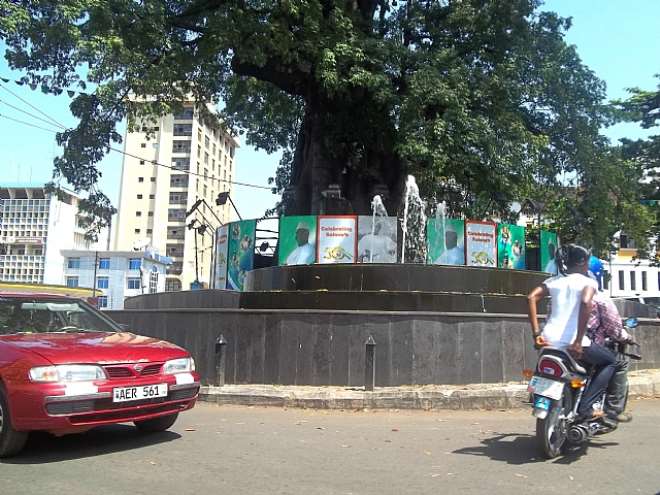 The 'Cotton Tree'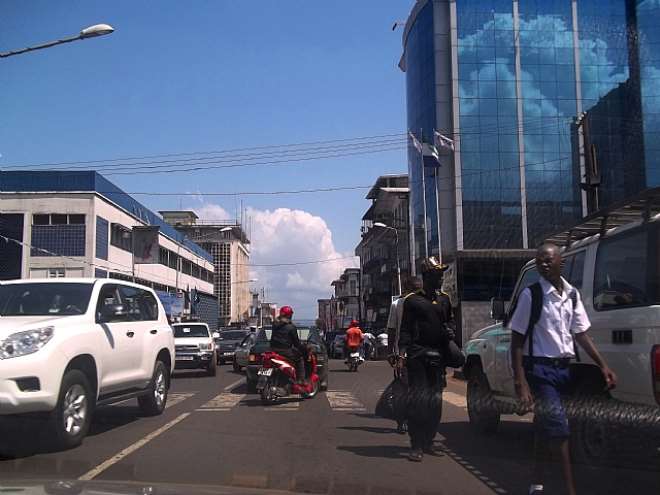 Downtown Freetown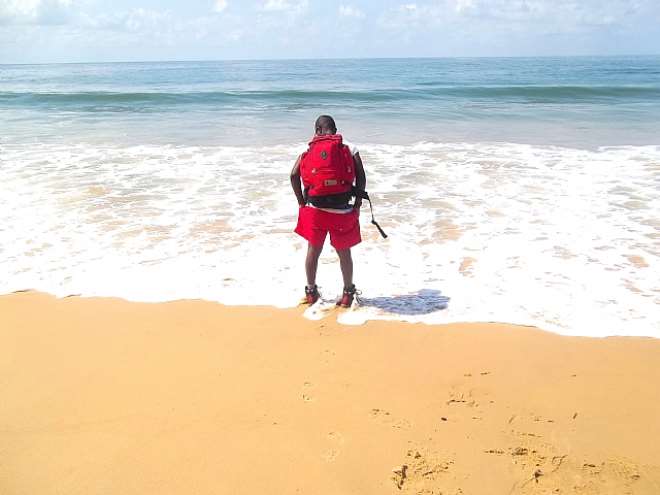 Playing with the water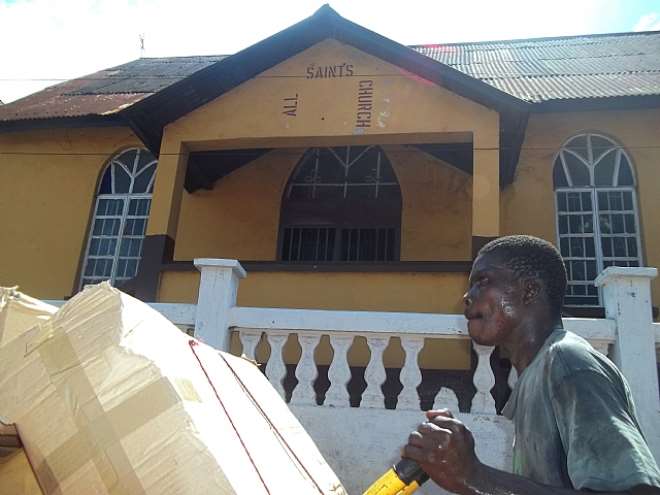 The struggle