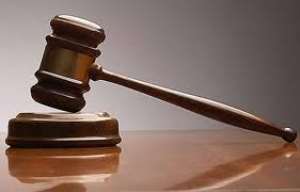 A jilted boyfriend, who, driven by jealousy, attacked and inflicted deep cutlass wounds on his rival, has been sentenced to 10 years' imprisonment in hard labour by a Kumasi Circuit Court.
Emmanuel Nkrumah pleaded guilty to charges of unlawful damage, unlawful entry and causing harm.
He would serve two years each for the first two offences, and 10 years for the third, to run concurrently.
Police Chief Inspector Comfort Baffour-Kyei told the court presided over by Justice Emmanuel Amo-Yartey, that the convict and Ataa Boatemaaa used to be lovers but got separated about six months ago.
The lady has since entered into a new relationship with Joseph Atta.
On September 9, this year, at about 21:45 hours, the victim and Boatemaa were in a room at Kronum-Kwapra, when the convict sneaked into the house and peeped through a window to see Joseph with the woman.
He then went home and picked a double-edged cutlass, and with a cement block, forced the door to the room of the lovebirds open.
Nkrumah attacked and inflicted deep cuts on the head, face and other parts of Atta's body.
Boatemaa shouted for help as the victim struggled with the convict. Atta managed to seize the cutlass from him before help eventually arrived and he was rushed to the Komfo Anokye Teaching Hospital (KATH) for medical treatment.
The prosecution said a formal report was made to the police at Suame.
Nkrumah, who escaped after the attack, later made his way to the very same police station to also make a case against the victim and was arrested.
He admitted the offence in his caution statement.
GNA