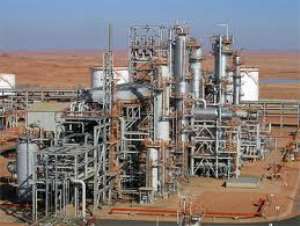 Accra, Sept 14, GNA - The Ghana National Gas Company Limited is to begin evacuating gas from the Jubilee Fields by the end of this year.
Mr Victor Sunu-Attah, Director in charge project development of the company, who announced this at a press briefing on Friday, said the company hoped to complete the mechanical integration of the various components of the gas in order to start the commercial evacuation.
The press briefing was to clarify issues regarding their operations.
He said the Jubilee Field already in production was the main anchor field for the phase one of the gas infrastructure project. Currently the Field produces an average daily oil of 85,000 barrels and associated gas production of about 107 Million Standard cubic feet per day.
The first phase of the project, which is estimated to cost about 750 million dollars, is expected to generate employment, create new infrastructure to support a vibrant petroleum and petrochemical industry and provide the opportunity for a more competitive pricing of indigenous gas as well as help generate much lower cost power.
"The Liquefied Petroleum Gas (LPG) from the project will meet the national demand and will eliminate the periodic shortages," Mr Sunu-Attah said.
Dr George Sipa Yankey, Chief Executive Officer of the Ghana Gas Company, said it was determined to build a first-class gas company and deliver a first-class infrastructure for the country.
He said the project execution was led by a global consortium headed by Sinopec under an Engineering Procurement Construction Commissioning (EPCC) contract.
Dr Sipa-Yankey further noted that the project was a turnkey project which means that the Ghana Gas has no responsibility in the selection of sub-contractors in the execution of works.
Commenting on the local content obligations, he said, a number of Ghanaians had been engaged to provide goods and services for the project, which included haulage, rental of equipment, supply of laterites, right of way clearance, geo technical studies, typographical surveys and environmental and social impact assessment.
Dr Sipa Yankey said the company was collaborating with Takoradi Polytechnic and Kikam Technical Institute for the training of technicians, operators, welders and pipe fitters for operation and maintenance of the pipeline.
He emphasized the need to evacuate natural gas from the Jubilee field quickly to ensure optimal production of the Field and to avoid flaring.
Dr Kwesi Botchwey, Board Chairman of company, said the project was using Ghanaian expertise indicating their capacity to execute such a project.
He advised Ghanaians to learn to appreciate and use their own national capacities and resources.
The Ghana National Gas Company was incorporated in July 2011 by the Government of Ghana in its determination to commercialize the country's gas resources.
The company, which aims at building, owning and operating gas infrastructure required for gathering, transporting and marketing of natural gas resources in the country, is thus focus on gas monetization by adding value and providing natural gas to markets for the benefit of the people of Ghana.
GNA