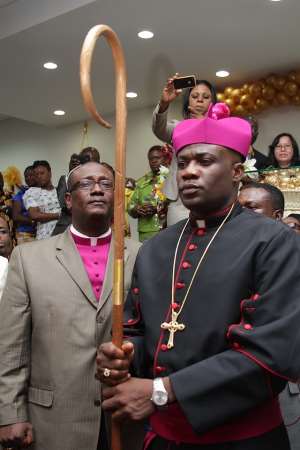 Apostle Kofi Adonteng Boateng, the Founder and General Overseer of the Divine Word International Ministries in Springfield, VA-USA, was last week ordained a Bishop at an impressive ceremony held at the church amid great jubilation and celebration.
Thousands of expectant Christians from all walks of life filled every space at the church to witness the historic ordination, held amid singing and powerful prayer sessions for spiritual breakthroughs for employment , financial freedom and other social problems.

The prayer and singing sessions were led by the Divine Angels headed by Minister Collins Boateng and Divine Mass Choir led by Osei Assibey. Clad in all white and waving white handkerchiefs, the congregation made a joyful noise unto the Lord with clapping, dancing and prayers to express their thankfulness to God for elevating their leader whose prayer linef is well patronized by thousands of people seeking spiritual salvation.
The ordination was officiated by four powerful men of God,the Founder and General Oveseer of Power of Faith International Ministry ,Hudson - Columbus Ohio, Bishop Dr.Daniel Antwi-Boasiako, Bishop Dr Jimmy Vaughan -the founder and director of Gospel Evangelistic Assocoation , Cascade- VA , Dr.Bishop Ebby Larbie ,the General Overseer of Abundant Life Ministries International (Non Denominational Christain Fellowship)VA Dr Bishop Jesse Booth of Zoan Baptist Church ,Frederiksburg - VA. and Prophet Justices Kofi Anann of Destiny Apostlic International Church - United Kingdom who exhorted and encouraged the new Bishop to use his new position to win more souls for Christ.
" When one person lights up with the presence of God, other people light up too.
"If any man aspires to the office of overseer, it is a fine work he
desires to do", Dr Antwi Boasiako quoted from 1 Timothy 3:1 during the sermon.

Bishop Antwi Boasiako added that Bishop Adonten has by philanthropic works ,miracles ,
generosity and devotion to the work of God, made him very prominent
throughout the United States, Africa ,and the world at large."

"Do not to forget where he was before ,the Good Lord brought him to this height.He urged the Bishop to set a good example for the congregation to follow, so that they will not go astray, Dr Antwi Boasiko noted

The Asantehene Otumfuor Osei -Tutu II added color and royalty to the ceremony when he sent a powerful delegation led by Nana Adusei Tweneboah Apem ,the Paramount Chief of Tepa Traditional area. In an address, he congratulated Bishop Adonteng on his elevation to the high office and presented a certifcate of honor signed by the His Majesty the Asantehene to the man of God.

" Now that you have been elevated to the office of Bishop am urging you to be lovely, respectful,honest,hardworking and win more souls to the kingdom of God.I f you fail in these respects you have not only failed your conregation alone, but also failed your creator", Nana Adusei Apem pointed out.

Bishop .Adonteng Boateng in his message after his ordination,shed tears as he recounted the agonies he has overcome to get this far expecially after
after the death of late his father, ( a Reverend minister) . However ,Bishop Adonteng Boateng said he believed his mother's
admonition and support on countless occasions that he would grow up to be a great man of God.

By dint of hard work, God- fearing, and a very humble beginnings , he has risen from a lowly Mr Kofi Adonteng Boateng to Pastor Kofi Adonteng Boateng , to Dr Kofi Adonteng Boateng ,then from Dr of Divinity to Apostle Boateng and now he is Bishop Boateng.

" God does his own things at the right time , he does it beautifully and this is the day that the Lord has made, we should all rejoice and be glad in it' said Bishop Kofi Adonteng Boateng
Bishop Adonteng Boateng expressed his profound gratitude to the church for their "prayers, love ,advise , support and encurogement that has brought him this far with many successes in my cup. I am humbly urging you all not stop your unflinching support to me".

"The man of God added that " Please, let eschew back-bitting ,ill accusation, pull- him-her- down syndrome and let us do away with all the negative tendencies, since they do not speak well of us as Christians. We should also not forget that, a house divided cannot stand"