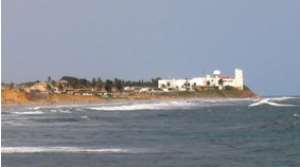 The Nifahene of Osu Alata, Nii Agboba v and the osu development committee (osu noyaa kpee,) have discovered an immediate stractegy to eliminate poverty and enhance the literacy level of the people of Osu.
This strategic initiative will also promote an Alternative Dispute Resolution committee across the four clans of Osu and GaDangmes nationwide to promote peace.
Locally known as the 'West End' of Accra, for its busy commercial, restaurant and nightlife activities, Osu is located about 3 kilometres east of the central business district of Accra.
Behind the intense beauty of the Oxford Street however, the indigenes of Osu face grievous challenges in the areas of development, education, sanitation and health.
Not only does the youth in the community engage in various vices due to unemployment, the high level of poverty has also deprived the young ones of appropriate education.
The state of affairs coupled with dispute among some clans of the community, hindered individuals and organizations who wanted to aid the situation as they didn't know where to send the support to, without stepping on another.
But hope was restored to Osu, when some concerned citizens of the four quarters of the community came together to form the ''Osu Development Committee'' (Osu Noyaa Kpee) aimed at promoting peace, love and unity among the Osu people and possibly GaDangmes nationwide.
Hungry for development, the Nifahene of osu alata, Nii Agboba v, also a member of the GaDangme Europe association and Nii Adzaye(Alex Adjei) the P.R.O. of the GaDangme Europe association also a citizen of Osu conjoined with the committee to reface the community.
Advertisement
Nii Agboba v in an encounter with the development committee, acknowledging the challenges facing the community stated, that he will as a matter of urgency call on the Osu citizens in the GaDangme Europe Association to assist in cash and kind to eliminate poverty by promoting training of the youth in various employable skills and general farming etc.
To support brilliant but needy school children in Osu to an appreciable level and also promote health and sanitation by involving sanitation agencies and stakeholders.
The Dzaasetse of Osu Alata, Niikwashie Aniefi v, in a remark, assured the Nifahene of the community's firm support, adding, that, in his own way of aiding the situation has adopted and sponsored three people through school, two of which are currently in the university level and the last one in primary schools.
The spokesperson of the Osu Development Committee, hon. Erasmus Odartey Xerton, overwhelmed by the rapid response and of the Nifahene, Nii Agboba v,urged all GaDangme citizen emulate the gesture and assist in bringing glory back to Osu.
Enhancing teaching and learning of the Ga language in all Osu schools and the introduction of literacy classes for the aged to know how to read and write are some of the objectives of the Osu Development Committee.
A report by Naa Dedei Hammond.