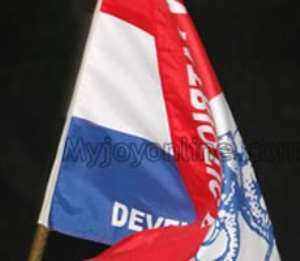 A member of the ruling National Democratic Congress (NDC) communications team is urging government to stamp its authority in ensuring the Constitutional Instrument (CI) creating the additional 45 constituencies is passed.
Fred Agbenyo said government must not allow the opposition New Patriotic Party's "unnecessary noise" to stifle its plans to extend developmental projects to deprived areas in the country.
He was speaking on Asempa FM's Ekosii Sen programme Wednesday.
The NPP has cautioned the Electoral Commission (EC) to back down on it initiative to create 45 constituencies arguing that the timing of the exercise is inappropriate.
The Minority in Parliament also staged a walk-out after it claimed the controversial CI 73 which changed into CI 77 and now 78 after they were called from recess potentially leaves the parties with less than two months to organise primaries for the 45 newly created constituencies.
Notwithstanding, the EC says it is unfazed with the development insisting that the creation of the additional 45 seats is a constitutional mandate.
Commenting on the issue on Ekosii Sen programme, Fred Agbenyo maintained that the conduct of the NPP is a time wasting tactic to frustrate government and the EC.
He noted that, the NPP's plan is to impugn the integrity of the Commission and set the tone for chaos should it lose the December polls.
"This attack on Electoral Commission is a grande agenda by the NPP to portray it [EC] as a bad institution. Gradually they want to position the EC as an institution which deliberately want to create confusion in the country" he opined.
The NDC Youth activist said the NPP's posture is not surprising since according to him, boycotts are synonymous to the NPP.
"We know the way the Danquah-Busia tradition operates; it must always be them; if it is not them all others cannot do it" he added.
Fred Agbenyo indicated that time is of essence hence the Majority must draw in the Independent candidates in Parliament to enable them form a quorum to sit for the 21 days required for the CI to mature.
He observed that the law is not explicit that all the 230 Members of Parliament must be present in the House before the CI can be passed therefore "the Minority should be ignored".
"If the NPP say they would not be part of it like they have always done, let them stay out. Let those who want to support the EC go ahead and approve the bill" Agbenyo stressed.