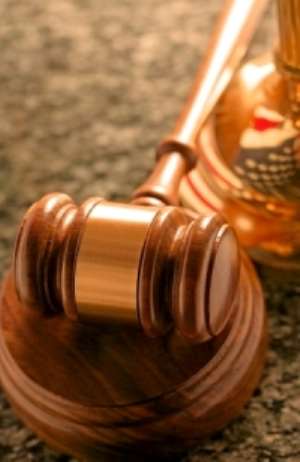 Koforidua, Sept. 05, GNA-Eric Bekoe, a 25- year-old farmer, was on Wednesday sentenced to 30 years imprisonment in hard labour for chewing the lips of three children.
Bekoe pleaded guilty in a Koforidua Circuit court to a charge of causing unlawful harm to the three children who are currently receiving treatment at the Korle-Bu Teaching hospital in Accra.
Police Chief Inspector Patrick Adzadza, prosecuting, told the court presided over by Mrs Wilhelmina Hammond that the complainant and Bekoe are both farmers residing at Tema Area, a suburb of Apedwa in the East Akyem Municipality.
The victims are aged three years, two and half years, and four years.
Chief Inspector Adzadza said on September 01 2012, at about 09:00 hours, the victims went out to play and got to a spot under a cocoa tree which was about 30 meters from Bekoe's house.
He said upon seeing the victims, Bekoe took advantage of the quiet environment and lured them into his room and looked them up.
Chief Inspector Adzadza said Bekoe later chewed off the lower and upper lips of the victims to an extent that one of them had the flesh on her upper part of her gum severed as an other's tongue was also chewed.
He said the victims became unconscious and bled profusely from their mouth until the timely intervention of the father of one of the victims who rushed to the scene, upon a tip off and rescued the children.
They were rushed to the Kyebi Government hospital for medical treatment but were later referred to the Korle-Bu Teaching hospital in Accra.
The prosecutor said Bekoe was arrested by Akua's father and handed him over to the Police.
Chief Inspector Adzadza said in his caution statement, Bekoe admitted the offence and also revealed that he swallowed some of the victims flesh and drank the blood which he claimed made "him feel good".
After Bekoe had pleaded guilty to the charge, he was asked by the judge why he did that and replied that he was only playing with the children and did not know what happened.
Bekoe did not show remorse for his actions but was rather smiling as he listened to the questions put to him.
GNA