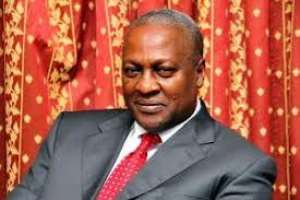 Accra, Sept 4, GNA - President John Dramani Mahama on Tuesday talked tough against the bureaucracy that has stifled the rapid development of the nation's private sector and registered his determination to implement actions that would transform the sector for more meaningful contribution to national progress.
"This is the area of my utmost passion. Our country has consolidated some of our economic fundamentals, and we are at the threshold of transition from LMI to middle-income status. This phase has been largely led by Government. The next phase of transformation must be led by the private sector," President Mahama said.
In a policy action statement for the final leg of the ruling National Democratic Congress (NDC) before the nation goes to the polls in December, President Mahama, who succeeded the late President Atta Mills said he was ready "to walk the talk on private sector development.
Included in the audience at the Accra International Conference Centre where President Mahama presented the policy action were private sector operators, captains of industry, development partners, government officials and development partners and reps of funding agencies.
President Mahama charged the National Development Planning Commission (NDPC) and the Ministry of Trade and Industry to extract from the Ghana Shared Growth and Development Agenda (GSGDA) and the trade statistics (especially on imports), all potential manufacturing activities and review same with the respective ministries, the Association of Ghana Industries and the Private Enterprise Foundation.
"Thereafter, a transparent program will be instituted to market the manufacturing opportunities to Ghanaian businesses, who will be encouraged to adopt and implement them with the active facilitation and support of Government. I expect the identification of the potential manufacturing activities to be completed this week and for the discussions with industry to commence next week.
"I am ready, here and now, to walk the talk. I am inviting our private sector partners to join me next week in inaugurating the Private Sector Advisory Council, a body that will serve as the apex of all strategic issues affecting private sector development.
"As chair of the Council, I will have direct oversight for engaging the capacities of the private sector. The days of public sector bureaucracy stifling private sector efforts must be over. Within the framework of the Private Sector Advisory Council, I will institute a hot-line system, which will receive complaints of bureaucratic impediments to accelerated private sector operations, for both domestic and foreign investors. These complains will be investigated and actions taken forthwith", President Mahama said.
He announced that special government initiative under Savanna Accelerated Development Authority A has created over 5000 jobs in the last few weeks alone.
GNA