4 September 2012
|
Politics
President Mahama initiates moves to galvanize political unity in Ghana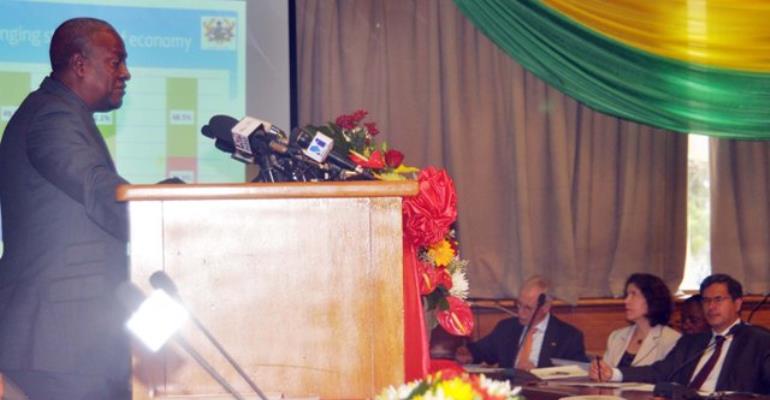 Accra, Sept 4, GNA- President John Dramani Mahama on Tuesday announced some initiatives his administration had embarked on to ensure enduring peace and unity in the country, even after the general election.
He mentioned periodic meetings with various political parties and regular meetings with other political stakeholders as some of the measures he had initiated for the execution of programmes and projects in the country.
President Mahama announced this when he presented his September to December 'critical policy actions' in Accra to outline some of the policies his administration had embarked on for the last quarter of the year.
The programme was aimed at outlining the programmes of the President John Dramani Mahama's administration which began after the death of President John Evans Atta Mills forty days.
It was also attended by Vice President Paa Kwesi Bekoe Amissah Arthur, Ministers of State, Members of Parliament, the Business community and members of the diplomatic corps.
According to President Mahama, he would call for an ice breaking meeting with leadership of various political parties and that such meetings would take place for the next months or years to come and called on members of other parties to help promote peaceful elections and acceptable transition.
"I will work hard to galvanise unity of purpose to create concrete steps that will ensure inclusive government with peace and unity in the country, even after the election." He added.
He said he had directed the Department of State Protocol to include roles of various political parties on national activities without fear or favour that would create a conducive atmosphere for the governance and anti-corruption programmes.
President Mahama said government had completed modalities for the constitution implementation committee to begin work and called on all those connected to their work to provide the necessary assistance for them to execute their duties professionally.
He said government would tackle all forms of corruption from the misuse of government assets to the grassroot level and called on all to embrace the exercise that would enhance the better Ghana Agenda government was pursuing.
GNA