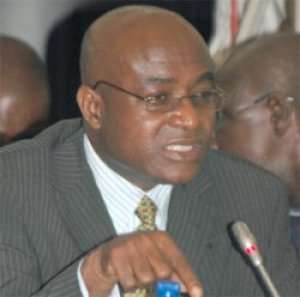 Accra, Sep 03, GNA - The Minority in Parliament on Monday walked out of proceedings in the house, protesting against the renaming of the controversial Constitutional Instrument (CI73) to CI77 without recourse to the House's procedures.
The Minority argued that CI73 was the instrument laid before the house went on recess and that if the document had assumed a new labelling, then it was a different document entirely and not the one that was tabled before the House.
Parliament resumed sitting after barely a month's recess to enable the passing into law of the Constitutional Instrument (CI73) seeking to create 45 more constituencies before the December General Elections.
Speaker Joyce Bamford Addo overruled the objection by the Minority, insisting that the name change did not affect the validity of the Constitutional Instrument before the house, stating that both documents- CI73 and CI77 were one and the same.
She explained that it was the government Publisher, the Assembly Press that ascribed numbers to Constitutional Instruments and not parliament and the Publisher had renamed the Instrument thus.
The Minority became further agitated by that explanation describing the procedure as alien and demanded that CI77 be laid in the House as different document.
Minority leader Osei Kyei mensah-Bonsu expressed disquiet over the issue saying that the development was at variance with the House's procedures.
"This CI77 is substantially different from what it was laid in the House. Madam Speaker, it should be withdrawn and relayed", he told members.
The Constitutional Instrument needs 21 sitting days to mature into law to give legal backing to the creation of the 45 new constituencies.
GNA