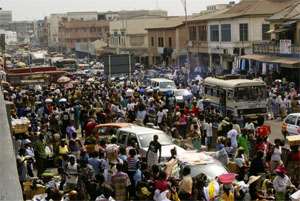 There has been a steady rise in the number of young girls migrating from the northern parts of the country to Accra. It is a worrying trend which without doubt has not received an effective intervention from the authorities.
A visit to the area with the largest concentration of these girls, Sodom and Gomorrah, would put the challenge in a better perspective. At night, they put their heads wherever they find to catch the necessary sleep, so they can meet the challenges of the next day, carrying the loads of the city on their heads.
While some of them are so young and in their teens, others are adults, perhaps divorcees who have ventured out of their hometowns to seek greener pastures.
Our worry, and for that matter, of society, is about the teenagers who besides other challenges stand the risk of being defiled by the many irresponsible young men prowling the nook and cranny of the extensive slum when darkness closes in.
For these young girls, young and old, suffering the travails of life in Accra without shelter and in the face of other challenges is worth the candle. The alternative is to be stuck in their areas of origin and weather the effects of abject poverty and the thought of a bleak future.
We are aware of a number of interventions by some NGOs which require the accompanying press cuttings for more funding. Such interventions have largely failed to tackle the challenge of the migration because of the topical treatment of a problem whose management can only be tackled at the root.
One of such interventions saw the provision of some items such as sewing machines and other items to the girls so they could return home and engage in lucrative vocations.
Carrying goods on their heads in the markets of Accra, for most of them, fetches more than engaging in fixed occupations at home. This intervention and others applied so far have proved useless, given the number of those still venturing into the unknown in Accra.
Here is to implore the authorities to turn their attention to especially the little ones among them with a view to applying an effective intervention. Is there no way for instance by which the police check points in Tamale can look out for girls below age 18 heading for Accra? It won't be easy though, as such kids are usually entrusted to adults who can easily claim they are parents of the children being taken to Accra.
The challenges in stemming the tide of the migration of under-aged children to Accra notwithstanding, failure to respond to the unacceptable geographical movement cannot be an option. We must act now by, as a first line of action, picking girls under 15 carrying goods in the streets of Accra and sending back to the North and ensuring that they are given free education even before Nana Akufo Addo's gratis education policy takes off, God-willing.