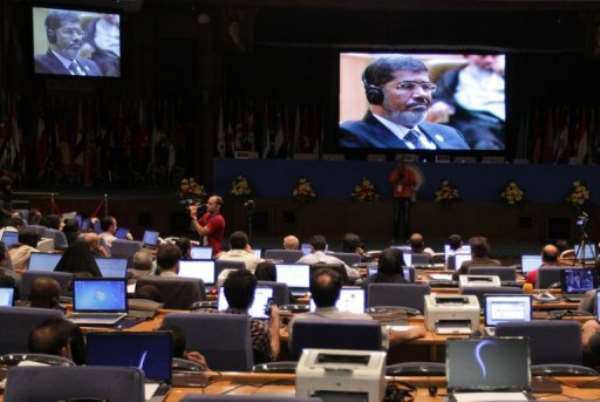 The Syrian delegation walked out during Mohamed Morsi's speech (seen on the screen as he attends the summit in Tehran). By Behrouz Mehri (AFP)
TEHRAN (AFP) - The uprising in Syria is against an "oppressive regime" and a continuation of the Arab Spring, Egyptian President Mohamed Morsi told a summit in Tehran, embarrassing Iran, which strongly supports the Damascus regime.
"The revolution in Egypt is the cornerstone for the Arab Spring, which started days after Tunisa and then it was followed by Libya and Yemen and now the revolution in Syria against its oppressive regime," Morsi told a gathering of chiefs of nonaligned states that included Iran's supreme leader and president.
"The Palestinian and Syrian people are actively seeking freedom, dignity and human justice," he said, adding that "Egypt is ready to work with all to stop the bloodshed."
Syria's delegation to the Non-Aligned Movement summit walked out when Morsi began his address. "The Syrian delegation withdrew as President Morsi began discussing the Syrian file," the official MENA news agency reported.
Morsi's description of the conflict in Syria as a "revolution" against oppressive masters jars with the narrative given by Tehran and Damascus that the uprising is separate from the Arab Spring, and consists largely of foreign-backed "terrorists" acting on behalf of the United States and regional countries.
Iran's supreme leader, Ayatollah Ali Khamenei, and President Mahmoud Ahmadinejad have several times hailed the Arab Spring as an "Islamic Wakening" inspired by Iran's own 1979 Islamic revolution. Syria, they said, was a different case.
Cairo has several times voiced support for the Syrian insurgency, seeing it as a continuation of the uprisings that changed regimes in Tunisia, Libya and Egypt. Morsi, who comes from Egypt's Muslim Brotherhood, was elected to power because of the revolution in his country.
Morsi, Egypt's first Islamist president, was in Tehran to hand over rotating leadership of the movement to Iran, Syria's closest regional ally.
He was the first Egyptian leader to set foot in Iran since the Islamic revolution in 1979.