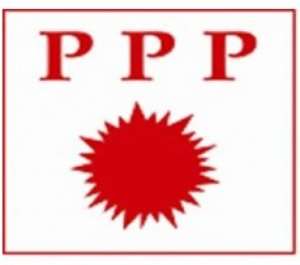 The Progressive People's Party insists that the NPP Manifesto is a set of empty promises which does not demonstrate a commitment to incorruptible leadership and competence, two key requirements for the transformational development the NPP is sloganeering.
In a statement the PPP said after the many judgement debts the country has been saddled with, the the least any government can offer is a presidential transparency.
The statement added all flag-bearers must publicly disclose their health records, assets, tax returns and source of party funding.
The full details of the statement is as follows;
PPP RESPONDS TO THE NPP MANIFESTO:
The Progressive People's Party insists that the NPP Manifesto is a set of empty promises without demonstrating a commitment to Incorruptible Leadership and Competence, two key requirements for the transformational development the NPP is sloganeering.
1. Incorruptible Leadership: Ghana needs Presidential Transparency, a fundamental Minimum Qualification for Presidential Candidates in the post "Woyome" era
How, after Woyome, CP, etc, can you trust any political party fielding a Presidential Candidate that does not provide basic, public transparency and accountability? All Presidential Candidates should publicly disclose 1) their Health records, 2) Assets, 3) Tax Returns and 4) Sources of Party Funding. It is not that much to ask when we are asking to become the all-powerful President of the Republic of Ghana. Each Presidential Candidate should agree to put this information in the public domain when they file to officially become Presidential Candidates. In the future, the Electoral Commission, as a matter of policy which it has the authority to set, should require that this information is submitted to the EC upon filing to become a Presidential Candidate, and that the EC should make this information available to the public at its offices and publish this information on its website and in the media.
2. Competence: If we do not change the Constitution, government will continue to fail at delivering upon promises to the people.
Discussing the individual points in a manifesto is an epic waste of time if any party that wishes to hold the office of the Presidency does not commit to making PPP's recommended changes to the Constitution: 1) prohibit Members of Parliament from serving as Ministers, 2) give the people power to elect Municipal and District Chief Executives, and 3)Separate the Attorney General's office from Ministry of justice to create an independent institution, modeled after the EC, tasked with fighting corruption.
The constitutional change regarding Ministers is particularly important when speaking of manifestos and broken promises. Take four key Ministries as an example: Health, Education, Employment and Attorney General and Minister of Justice. In the past four years each of them has had at least 3 individuals in charge of the Ministry. How can you hold them accountable for implementing the policies in a manifesto if Ministers are only in a position for 10 to 16 months? Why spend so much time arguing over the minute details of a Manifesto if you are going to put a career politician with no experience providing real developmental results in charge of implementing your policies when you get to government?
The person charged with implementing education policy, for example, should be an expert in that field, with a proven track record of success. We must pick Ministers who have the competence to spend 4 long hard years fixing problems. You can't find those kinds of people if you must select the majority of Ministers from Parliament. And as long as our "winner takes all" constitutional system prevails, independent minded but competent Ghanaians will not be persuaded to take on key jobs at the Ministries. It is too risky to be branded NPP or NDC, especially if your goal is to give your skills to the Ghanaian public, not to a party. The PPP knows this because our flagbearer suffered from this very problem, and is in politics today to attempt to fix the systemic problems in our body politic.
The PPP's Constitutional Reform policy is justified because it makes sense for Ghana: Past governments suffered from corruption and incompetence. We need Constitutional Reform designed to address these specific Ghanaian problems with specific Ghanaian Solutions: prohibit MP's from serving as Ministers, give people power to elect M/DCE's, separate the AG from the Ministry of Justice to create an independent institution, modeled after the EC, to fight corruption.
The PPP will provide a detailed analysis of the points in the NPP and NDC manifestos once they have committed to introduce these constitutional changes to parliament and plan for a referendum on the changes by the end of 2013. Without such a commitment, commenting or discussing a manifesto is a grand waste of all of our time.
CORRUPTION IS PPP's NUMBER ONE ENEMY & WE WILL ATTACK IT SYSTEMATICALLY & FROM ALL FRONTS!
THE SUN WILL SHINE ON CORRUPTION!
WE ARE AWAKE