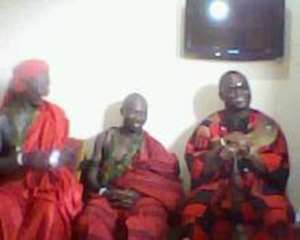 Nii Nmenmeete Addo II, Chief of Russia Nmenmeete and the landlord of the Russia in Accra and the people on Saturday, marked maiden year's Homowo festival with the his elders sprinkling its traditional food "Kpokpoi" along the principal streets of Russia Nmenmeete and ancestral areas.
The ceremony to hoot at hunger also expected to bring blessings and prosperity to the people for good harvest, marriage and development.
Nii Nmenmeete II caution the people to unite and contribute to the development of Nmenmeete Russia traditional area.
He pointed out that for the first time in 60 years, rituals to the sempe shrine at the sempe we was formed.
Nii Nmenmeete II said education should be a priority for the youth as well as sanitation and development of aquaculture to provide employment for the people.
The God father of Russia Nmenmeete traditional area and paramouncy of Sempe stool land Nii Adote Otinto II who homage to his sub chief and wish him happy Homowo maiden festive celebration.
Meanwhile the Seshibii weku kpee of okai-okaikoi family also celebrates their maiden Homowo festive.