August 26, 2012
|
Togo
Togolese women declare sex strike to get protest backing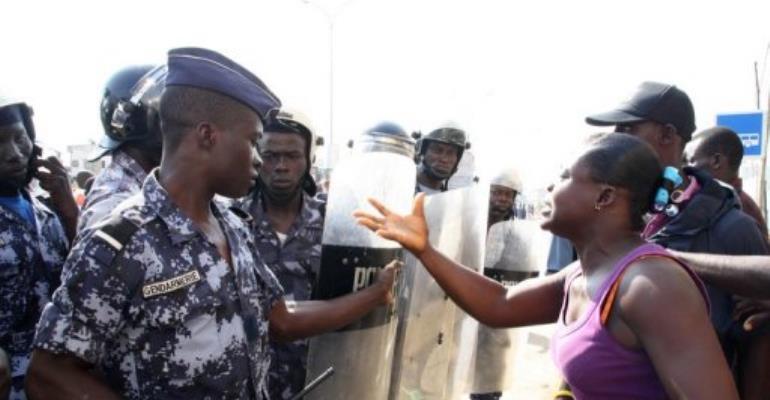 LOME (AFP) - Women from the Let's Save Togo coalition called Sunday on all females in the country to refrain from sex for a week to force Togolese men into backing the group during their demonstrations.
Let's Save Togo is an umbrella organisation of nine civil society groups and seven opposition parties and movements that has rallied to demand political reforms ahead of parliamentary elections due in October.
"We call on all women to deprive their husbands of sex for a week from Monday," Isabelle Ameganvi, a member of the group, told AFP.
"For us it's a way to get all men, not only those from the collective, to do more in the fight undertaken by Let's Save Togo over the past weeks.
"Women are the first victims of the disastrous situation that we are living in in Togo. That's why we are telling all women: one week without sex. That's also a weapon of the battle," said Ameganvi.
Some of the opposition are seeking a delay in the polls to let reforms take effect first, others also want changes to the electoral code passed by parliament to be repealed on the grounds they were not made properly.
"We will undertake other actions in the coming days," Ameganvi said.
"Next Thursday, we intend to descend on the streets of Lome to demand the release of our activists who were arrested Tuesday and Wednesday and handed over to Lome prison."
Togo has been run by the same family for more than four decades. Gnassingbe Eyadema ruled the country for 38 years with an iron fist until his death in 2005.
Shortly after his death was announced, the military installed his son Faure Gnassingbe as president. He has since won elections in 2005 and 2010.
About 100 people were wounded when demonstrations last week degenerated into clashes between protesters and police, and some 125 people were arrested, the coalition said.
The security minister, Damehane Yark, said in a statement Sunday that 119 people were taken in for identity checks overnight Tuesday and Wednesday before being released Friday.
Eight other people carrying knives were also taken in for questioning during the demonstrations and have been handed over to prosecutors, the minister's statement said.
The coalition has announced new demonstrations after sit-ins from Tuesday.