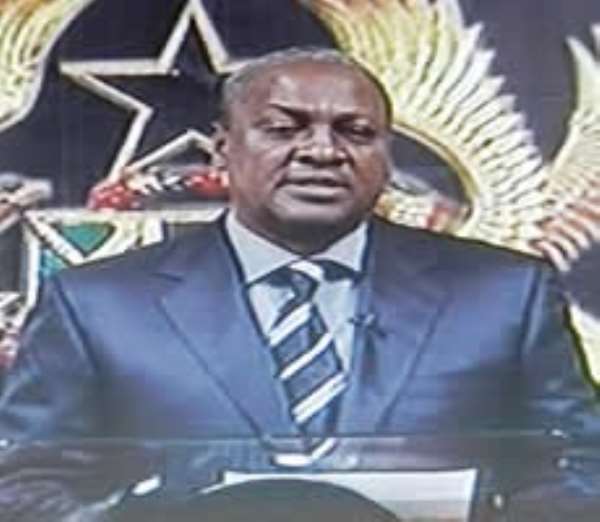 The Progressive People's Party has raised concerns over the emergence of "huge" billboards of President John Mahama and the late President, Prof. John Evans Atta Mills, describing the development as a threat to the unity that the country is trying to achieve ahead of the 2012 elections.
President Mahama in his first televised address to the nation on Wednesday since assuming the high office following the death of President John Evans Atta-Mills, called on Ghanaians to be peaceful and stay united.
"When it comes to the practice of peace and unity we Ghanaians have always been exemplary," President Mahama said.
However, the PPP in a release on Thursday noted, "also key in promoting unity is to address the issue of abuse of incumbency", which it accused the president and yet-to-be-confirmed flagbearer of the ruling National Democratic Congress.
"We can find that there are huge billboards of His Excellency John Mahama and former president Prof. Atta-Mills ostensibly put up to promote and give advantage to the candidacy of the former in the 2012 elections. Who is paying for these billboards? Is it at the expense of the tax payer? Will these ensure unity in Ghana when one party gets undue advantage for being in government?" the PPP queried.
Even though the PPP declared support to ensure maintenance of peace and unity in the country, it is urging the President to address "the issues of lack of transparency and broader consultation in decision making.
"A case in point is the NDC's government white paper issued on the report of the Constitutional Review Commission. The NDC seeks through that white paper to concentrate more power in the hands of the president in the selection or election of DCE's against the collective wishes of Ghanaians to have their DCE's elected directly without any executive interference. Putting big powers in the hands of the President will not promote unity in any practical sense," the PPP submitted.
The PPP expressed worry over what it termed too much discrimination due to unnecessary partisanship in the award of state contracts, appointments into key public service positions and the distribution of national resources.
"These are the things that militate against the peace and unity in Ghana and the president should make a personal commitment to reverse this trend in order to sustain the peace and unity in our beloved country".
The statement nonetheless is hopeful the president's policy direction to be delivered in a fortnight, will provide possible solutions to some of these challenges.
"It is our hope that the president would carefully consider the issues raised above when he presents to the nation an agenda on some policy measures we need to take to consolidate the peace and unity".

President John Mahama
Story by Ghana/Myoyonline.com/Jerry Tsatro Mordy