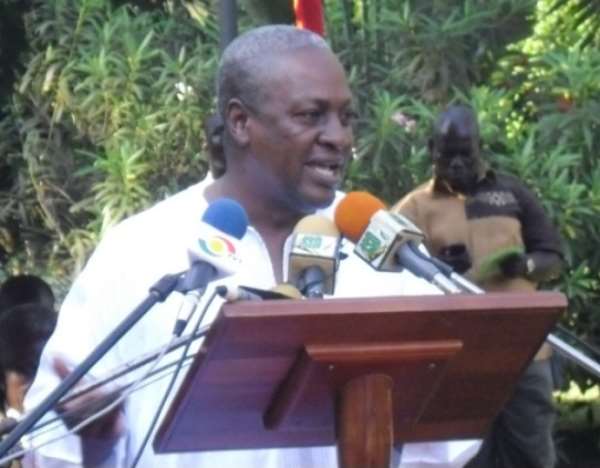 Sunyani (B/A), Aug. 24, GNA – President John Dramani Mahama on Friday announced that the Ghana Education Trust Fund (GETFUND) would soon release adequate funds for the expansion of infrastructure at the University for Energy and Natural Resources (UENR) in Sunyani.
It would be provided with hostels, lecture halls and residential accommodation to facilitate the commencement of academic work before the end of the year.
President Mahama was addressing a grand durbar of chiefs and people of Brong-Ahafo in Sunyani as part of a day's "Thank You" visit to the Region.
The UENR is one of the two new public universities initiated by the late President John Evans Atta Mills, the other one is in the Volta Region.
It has inadequate infrastructure, thus Government's decision to allocate more funds to construct additional facilities.
President Mahama at exactly 1430 hours led the people to observe a minute silence for the repose of the soul of the late President Mills, saying "It is exactly a month ago on July 24 that the late President passed away".
He gave the assurance that all uncompleted projects, especially road infrastructure would be completed and new projects commenced.
Mr Kwadwo Nyamekye-Marfo, Brong-Ahafo Regional Minister recounted the numerous development projects in the Region initiated under the three-and-a-half year regime of the late President Mills.
He said GHC720 million had so far been spent on educational infrastructure, including 270 schools under trees which 94 had been completed.
The Regional Minister announced that due to the enviable investment climate created by the Government several companies continued to express interest in investing in the Region.
He said OLAM, one of the largest agri-commodity supply chain companies world-wide, operating in 64 countries across the globe in 40 products with about 27,000 employees had expressed interest to invest in the Region.
Mr Nyamekye-Marfo said the company intends to establish a factory in Brong-Ahafo to promote Ghanaian cashew production.
"This will create employment for over 2,500 people with an investment of 100 million dollars over the next four years. Farmers in the Region will be encouraged to diversify into more non-traditional crops to improve their living standards."
Osahene Kwaku Aterkyi II, Kukuomhene and President of Brong-Ahafo Regional House of Chiefs said Brong-Ahafo Region had had a fair share of the national cake under the late President Mills, notably, the establishment of a fully-fledged public university.
He appealed to Government for assistance to complete the Sunyani Ring Road Project commenced about 30 years ago and named after the late President Mills.
Osahene Aterkyi expressed concern about the use of intemperate language, which had the tendency to undermine press freedom and freedom of speech, essential pre-requisites for democratic governance.
He noted that it might lead to social conflicts and derail national unity and the progress the country had made in its democratic dispensation.
GNA