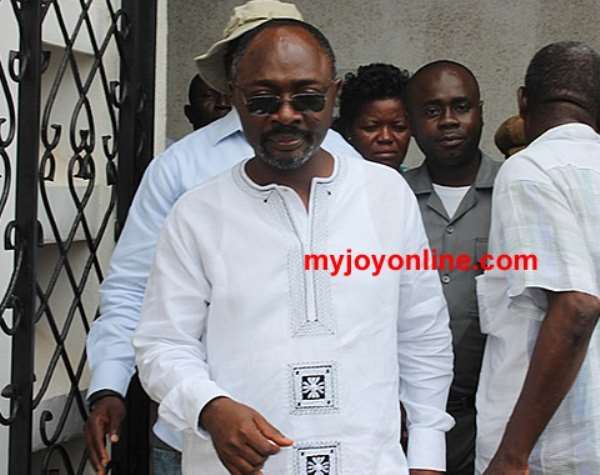 Alfred Woyome
Personal Assistant to Alfred Woyome says the embattled business man who is facing trial for his role in the controversial 51 million cedis judgement debt scandal, has yet to receive any subpoena from the Public Accounts Committee (PAC).
Kwame Tawia told Joy News they have not been served with any subpoena as the PAC would have the world to believe.
He was reacting to media reports that Alfred Woyome will appear before PAC Thursday afternoon after he was subpoenaed by the Committee of Parliament.
Vice Chairman, of the committee Kweku Agyemang-Manu who confirmed the subpoena to Joy News said Woyome has no choice but to appear before the committee, having turned down two previous invitations.
He said if Woyome failed to appear after the subpoena, the Committee may invoke its powers of the High Court.
But in a reaction to Joy News, Kwame Tawia said his boss has not been served with any subpoena.
According to him, the last letter of invitation they received was on August 17- a letter they duly responded to, by reminding the committee that neither Parliament nor the Executive had the power to interfere with the Judicial process.
He explained that the controversial judgement debt saga had found its way to the highest court of the land, the Supreme Court and expected that the case be handled there.
Kwame Tawia challenged the PAC to seek interpretation at the Supreme Court to find out if it had the powers to invite an individual to appear before it when that same individual is in court on the same matter.
He was however unequivocal that Alfred Woyome will not run away from the PAC.
He chided PAC for not "doing the right thing" and committing the same errors the Economic and Organised Crime Office committed in their bid to investigate the controversial 51 million cedis judgement debt payment he received from the government in 2010.
He described the EOCO report as false, citing what he said was a contradiction by the Vice President Paa Kwesi Amissa-Arthur during his vetting.
According to the EOCO report the late president John Mills on two occasions ordered that the payment to Woyome be stopped but that information, Tawia id sawas contradicted by Amissah Arthur who said no presidential directive was given.