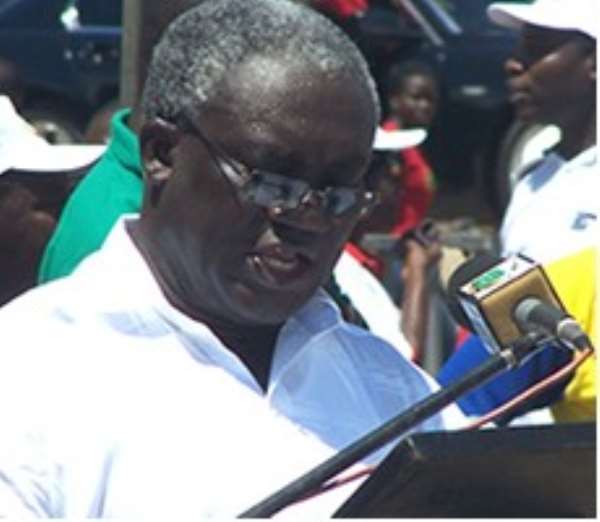 TUC boss Kofi Asamoah pointed out "... millions of Ghanaians are forced to eke out of a living in precarious employment in the ever expanding informal sector."
In the face of the expanding Ghanaian economy which is now 14.4% GDP in 2011, the Economic Justice Network (EJN) has been inaugurated to ensure the equitable and just distribution of economic wealth.
Originally formed in 2005, the EJN emerged from a tradition of civil society campaigning and coalition building in protest of chronic economic injustice.
For instance, the network was at the forefront of advocacy against "the discredited Economic Partnership Agreements" (EPA) and "the planned free trade pact between European Union and African countries" – economic policies that the network thought would negatively affect ordinary Ghanaians.
The EJN is a coalition of civil society organisations which draws its membership from a wide range of non-state actors including trade unions, farmers' associations, workers in the manufacturing and service sectors, professional groups, and women's rights and equality organisations as well as faith-based organisations, student and youth groups, and NGOs.
Speaking during the EJN's re-launch in Accra, Secretary General of the Trades Union Congress (TUC), Kofi Asamoah pointed out that the "expansion of the national economy follows a trend of overall economic growth in recent years to earn the country the stature of a middle-income economy," yet "even the most ardent promoters and supporters of the economic policies credited with this performance… have had to concede that the strong GDP growth has not translated into adequate job opportunities and better conditions of life for ordinary people."
"Indeed, millions of Ghanaians are forced to eke out a living in precarious employment in the ever expanding informal sector," he added.
He also said that the global and national policy landscape had undergone significant changes that brought into being, new policy issues.
Therefore, he said, the inaugural event was a key step in the process by which the EJN could better position itself to address these new challenges. He urged members of the network to broaden and deepen the scope of the EJN's work, membership base, alliances and interactions.
Tuesday's inauguration was part of a series of events to introduce the group to the public and to make it more easily accessible to other constituencies, groups and policy makers.
Christian Council President Rev Fred Deegbe, who chaired the occasion, stated that "contrary to official declarations of progress in poverty reduction, the sad reality of years of economic growth is that the overwhelming majority of Ghanaians do not have jobs or decent means of livelihood. They do not have access to treated water, quality education, healthcare and housing."
For his part, Tetteh Hormeku of the Third World Network Africa added that "Ghana's strong GDP performance in recent years had been due largely to the increased international demand and high prices for its mineral and agricultural raw material exports."
"By the same token, the economy is even more vulnerable to violent external shocks. In the global financial and economic crisis, Ghana's economy fell by 3.2 percent of GDP between 2008 and 2009 – a faster and bigger drop than in the main centres of the global economy supposedly hardest hit by the ongoing economic turmoil," he noted.
"Against this backdrop," he continued, "the EJN seeks to work towards reorienting Ghana's economic growth drivers towards domestic sources and promote trade and finance reforms to enhance, re-position and transform capacities of and linkages between domestic economic sectors, actors and interests within them."
The network will also seek to promote inclusive growth and development through equitable redistribution and realignment of production capacities and improvement of productivity-centered livelihoods to support socio-economic justice and poverty eradication in the country.