21 August 2012
|
Politics
Prez Mahama has not abused any incumbency – Lecturer
Myjoyonline.com | Ernest Dela Aglanu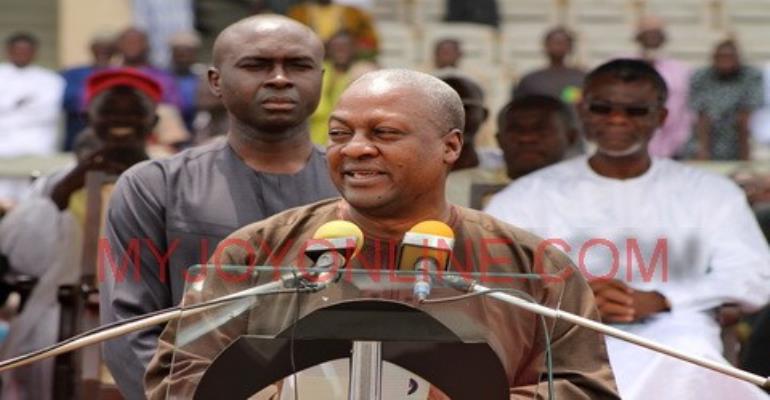 A Political Science lecturer at the Kwame Nkrumah University of Science and Technology (KNUST), Kwesi Amakye has said President John Mahama's Thank You tour cannot be described as a campaign tour.
Kwesi Amakye argued that contrary to comments that the President is abusing incumbency, it is very difficult to conclude that he is out campaigning for votes since the aim of the tour is just to show appreciation for the difficult times the nation went through, with President John Evans Atta Mills' death.
The former Commission on Human Rights and Administrative Justice (CHRAJ) Boss, Emile Short speaking to Joy News stressed on the need to ensure a level playing field for political aspirants.
Justice Emile Short said when taxpayers money is used to promote "political and partisan interest, then it undermines the legitimacy of the electoral process." Those who do not have access to state funds and facilities are put at a disadvantage, he added.
However speaking on Election Headquarters on Joy FM Tuesday, Kwesi Amakye said "We can't really conclude that he is out there campaigning for votes. I don't think he has flouted any regulation. I don't think any incumbency has been abused," since the National Executive Committee of the NDC has not yet endorsed him as flagbearer for the December elections.
He noted that John Dramani Mahama has so far not "made any explicit statement asking for people's support" towards the elections although it is obvious that he is going to be made the NDC's flagbearer.
The Political Science lecturer said whatever the President does "amounts to he presenting himself to the people of Ghana and in a way marketing himself," something he said is a common phenomenon with democracies across the world but when "they over do it, when they make some sort of a mistake and come out explicitly and use public resources in political campaigns then one can go out and make a case."
Deputy Local Government Minister, Elvis Afryie Ankrah also disagreed with noting that the President is abusing incumbencies saying considering the tragedy that bedeviled the country it is prudent "under normal circumstances in a traditional setting he should have gone to every traditional house," to thank them for the support which he said is "practically impossible."
The President, he added, cannot be blamed if his tour inures to his advantage.
The Local Government Minister however downplayed accusations that the President is receiving much coverage than opposition political parties and figures, on the state broadcaster, GTV.
He said the President is on a national assignment and therefore deserves all the coverage he is currently receiving.