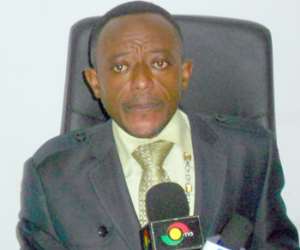 Rev . Dr. Owusu Bempah , Founder and General Overseer of Glorious World Power Ministries International has lauded Ghanaians for showing maturity and togetherness during the funeral of the late President Prof. Evans Atta Mills.
According to him, the manner in which Ghanaians comported themselves during the burial of the late president showed that we were indeed one people with a common destiny.
Speaking at a press conference in his office in Accra, Rev . Bempah urged Ghanaians to exhibit that same kind of togetherness and love before, during and after the elections this year.
He continued that 'when we are able to do this, the whole world would continue to recognize Ghana as the most peaceful and democratic country in Africa if not in the world.'
Rev . Bempah entreated all political leaders to preach peace instead of perpetrating violence through the use of inciting words.
He also thanked the funeral planning committee for putting right measures in place in making the funeral a success.
'We did not see any political party flag at the funeral but rather we saw Ghana flags. This shows that we are all one people,' Rev . Bempah said.
Rev . Bempah expressed his profound condolence to the late Prof. Mills family and wife and asked that they console themselves with the thought that the late president was resting in the bosom of the Almighty God.
He prayed that the good Lord would grant President Mahama the courage and strength to continue the good works of the late president.
By Cephas Larbi