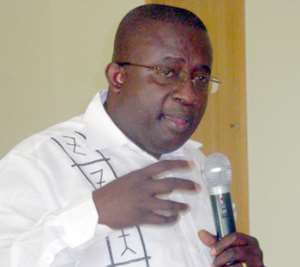 The Chief Executive Officer (CEO) of the Ghana Chamber of Mines, Dr. Toni Aubynn, has disclosed that 300 people were reported dead last year of illegal small scale gold mining activities, popularly called, 'galamsey' in Ghana.
He noted that such deaths could have been avoided; hence, the chamber was undertaking research towards supporting, regulating and developing Artisanal Small Scale Mining enterprises in collaboration with other stakeholders of the mining industry.
Dr. Aubynn made these remarks when opening a one-day 'Action Planning Workshop on Artisanal and Small Scale Mining' for stakeholders, sponsored by Business Sector Advocacy Challenge (BUSAC) Fund at Tarkwa in the Western Region yesterday.
The workshop was aimed at providing stakeholders the platform to fine tune a draft communiqué and the way forward for artisanal small scale mining.
He hinted that the chamber saw the initiative of small-scale mining as a means to ensure mutual benefits from mining activities for small-scale miners, mining communities and the state.
The CEO of the Ghana Chamber of Mines said his outfit desired to ensure reduction in the number of disputes, tensions and potential conflicts in the mining communities and expected an upswing in legalized small-scale mining to unsure mining was done in a safe and secure manner.
Ambrose Yennah of AIDECA Consultancies International Limited, who gave an in-depth presentation on 'Specific Action Steps by Stakeholders', noted that illegal mining was a menace and should not be countenanced in any form.
He also suggested that government reviewed, strengthened and enforced the laws on small scale mining with a clear definition on what constituted acceptable and unacceptable mining practices, and together with the regulatory agencies, strictly enforced the laws which made mining without license a criminal activity.
Yennah concluded among other things that, better and improved safety, health and environmental practices in small scale mining operations would lead to reduced incidents at mining sites that normally resulted in loss of lives.
From Sam Mark Essien, Tarkwa