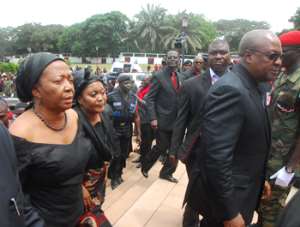 The widow of the late President Evans Atta Mills, Dr. Mrs. Ernestina Naadu Mills and the entire Kle Abodo family of Prampram, wish to express heartfelt gratitude to the President, H. E. John Dramani Mahama, the Government of Ghana and Ghanaians for their generous support before and during the funeral and burial rites of the late President of Ghana.
The family wishes to express gratitude to the Funeral Planning Committee, Members of the Council of State, the Honourable Speaker and Members of Parliament, Her Ladyship the Chief Justice and members of the Judiciary, as well as the Ghana Bar Association and members of the Diplomatic Corps.
Similarly, the former First Lady and the entire Kle Abodo family of Prampram wish to express profound gratitude to the National and Regional Houses of Chiefs and Queenmothers; the leadership of the Christian and Muslim communities in Ghana, the Ahmadiyya Movement and members of traditional religious organisations for their role in giving the former president a befitting burial.
We further wish to express gratitude to the officers of the Ghana Armed Forces, the Ghana Police Service and the various security services that ensured law and order during the funeral and burial rites.
Advertisement
We also appreciate the roles played by various professional and social clubs, including the Musicians Union of Ghana, the Ghana Journalists Association, Achimota Old Students Association, the Ghana Revenue Authority, the Ghana Trades Union Congress, Market Women's Associations and Traders, among others.
We are also grateful for all the prayers, words of support and donations that have poured in from Ghanaians, corporate Ghana and the international community.
May God richly bless you all.
Hon. E. T. Mensah
(MP Ningo Prampram and Minister for Water Resources, Works & Housing on behalf of Kle Abodo Family of Prampram)