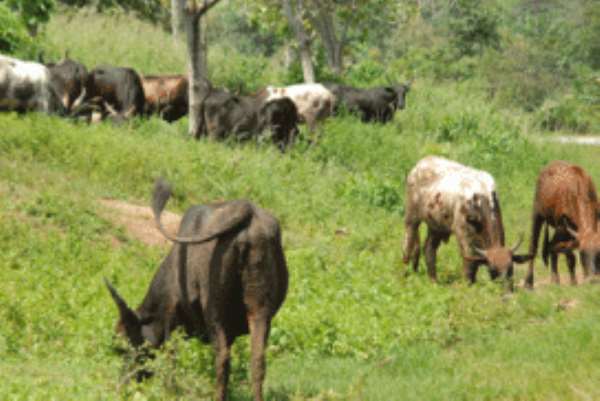 The Ashanti Regional Security Council (REGSEC) has given recalcitrant Fulani herdsmen in Agogo the final opportunity to leave within a month or face "full-scale forcible eviction".
The decision was taken during the presentation of an investigative report on the activities of the nomads in the Agogo Traditional Area to the REGSEC in Kumasi at which the cattle owners led by Alhaji Mohammed Ahmed, pleaded with the council to allow them some time to sort themselves out.
The REGSEC set up an 11-member committee on February 7, 2012 to investigate the Agogo Fulani issue, following the High Court ruling which ordered the council "to take immediate, decisive, efficacious and efficient action to flush out all cattle from Aberewapong, Mankala, Nyamebekyere, Kowereso, Adomemu, Bebuoso and Brahabebome; all in the Agogo Traditional Area, the only exception being cattle that have been properly confined in a permitted area."
Chaired by Mr Bempong Marfo, the Ashanti Regional Security Liaison Officer, the committee was tasked to work out an evacuation plan for the immediate removal of cattle from the villages and also make recommendations to prevent the return of the nomads and their animals to the area.
Presenting the report to REGSEC, the Ashanti Regional Commander of the Bureau of National Investigations (BNI), Mr Alex Daary, mentioned some of their findings as the destruction of crops and farms due to the grazing of cattle at night and the presence of thousands of cattle in most of the communities within the electoral area.
He also stated that the animals drank from streams and rivers which served as sources of drinking water for some communities.
Again, the committee established that cattle owners, including Alhaji Karim Grusah and five others, did not possess valid titles to land for their cattle business.
It was based on the findings that the committee recommended the ejection of the nomads and their cattle if they failed to leave voluntarily.
In his comments, the Ashanti Regional Minister, Dr Kwaku Agyemang-Mensah, commended the committee for doing a good job.
He expressed worry about problems associated with the activities of the nomads in the Agogo area and said it was important for the issue to be tackled once and for all.
The Agogo area has not been peaceful in recent times due to the presence of the herdsmen and their cattle and some people lost their lives in the confusion that erupted between Fulanis and the local people.
At a point, the residents placed a ban on funerals in the area until the herdsmen were ejected, while demonstrations calling for the destoolment of the Agogohene, Nana Akuoko Sarpong also took place in the area.
In the heat of the disturbances, a military/police task force was set up at the instance of the National Security Council to ensure the relocation of the cattle to the Afram Plains area but that has not achieved the desired results.