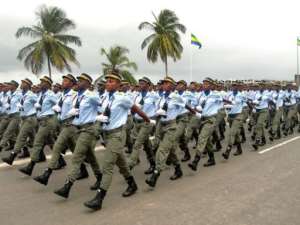 LIBREVILLE, Gabon (AFP) - Calm returned to Gabon's capital Friday as the nation celebrated its independence day, though opposition supporters vowed to continue their campaign to oust President Ali Bongo Ondimba.
A traditional military parade through Libreville showed little sign of the tension seen Wednesday when violent clashes broke out after police stopped an unauthorised protest in support of opposition leader Andre Mba Obame.
One person died during the clashes, according to the National Union (UN) opposition, and a television station belonging to Mba Obame was torched.
In a televised address to the nation ahead of independence celebrations, a defiant Bongo warned he would not tolerate any further uprising.
"I won't let chaos into Gabon. The law must be respected and it will be," he said.
Thousands of people have turned out to support Mba Obame, a former member of the ruling party who defected to the opposition, since he returned to Gabon on August 11 from 14 months in exile over health problems.
His return sparked the worst violence since the disputed 2009 election which saw Bongo succeed his father Omar as president following the leader's death earlier that year after 42 years in power.
Mba Obame, who claims he won the election, left Gabon in 2011 after declaring himself elected head of state, refusing to recognise Bongo's poll victory.
His UN party was subsequently dissolved and therefore does not have the right to organise demonstrations.
However, it called a demonstration on Wednesday in the centre of Libreville, despite having no official authorisation.
Protestors torched garbage bins and threw stones at police, who responded by firing tear gas.
According to the party, a 22-year-old woman died in the violence.
Gabon's health ministry said the woman who was known to be asthmatic died "of natural causes". But an unnamed hospital source said the death was "likely due to a reaction to tear gas."
The police, which the UN party has accused of firing on protesters, denies any death was linked to the clashes.
Since Mba Obame's return, the UN party has clearly said it intends to oust Ali Bongo.
Speaking of a grave crisis, the party has been calling for a national conference that would produce a new constitution and elections.
Advertisement
"It's not by force or violence that we are going to solve this crisis but by a meeting between Gabonese," said the UN party's president Zacharie Myboto on Wednesday. "People are ready to continue the fight."
The government has rejected the idea, insisting there is no crisis in Gabon and saying Mba Obame and the UN party overstepped the legal limits by proclaiming himself president in 2011 and organising unauthorised rallies.