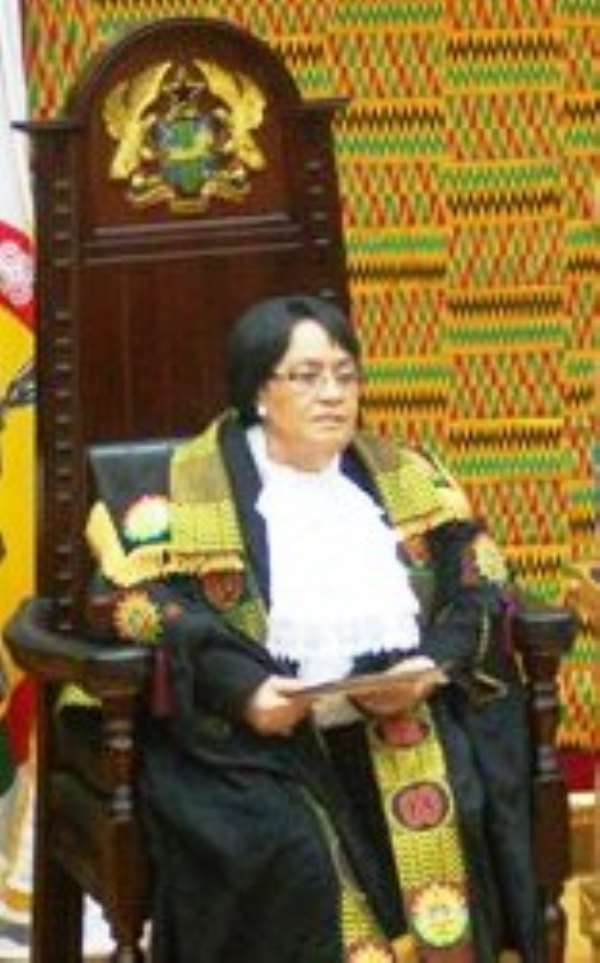 Accra, Aug 16, GNA – Mrs Justice Joyce Bamford Addo, the Speaker of Parliament has adjourned the house sine die on Thursday after the House approved some loan agreements.
The loan agreements include a loan agreement between the government and the African Development Fund for an amount of 45,000,000.00 Units of Accounts, an equivalent of US.04 million and a grant amount of 25,000,000.00 Units of Account, an equivalent of US.20 million to finance development of skills for the industry.
The House also approved a 64,500,000.00 Special Drawing rights, an equivalent of US0.00 million and a grant amounting to 45million Dollar from the United States Agency for International Development.
Also approved was the amount of 64,500,000.00 and a grant of US million for International Development to finance the proposed Ghana Commercial Agricultural Project.
Mrs Addo commended members saying all of deserve good rest though the political season is intensifying for the December elections.
She said "I am of the conviction that these endeavours would not deny you of the energy you need in order to participate effectively in the next meeting which is of course the last one for this Parliament."
She also commended the members of the Parliamentary Press Corps for the good and accurate reportage of our work here.
Mr Cletus Apul Avoka, Majority Leader, commended the Appointment Committee for the stance they took to vet the Presidential nominee for the position of a Vice President adding that the exercise was conducted smoothly and has helped in deepening and enhancing our credentials in good governance within the community of democratic States.
He also commended the nominee, now Vice President for his comportment and performance during the occasion.
Mr Avoka thanked members for the show of patriotism and for joining hands with the executive and the family of the late President in giving our departed President a fitting burial.
He said the House may have to be recalled in the course of the recess to sit for the statutory period required for the CI 73 meant for creation of 45 new constituencies to mature as a corrected version of the document was re-laid on August 15, 2012 after it was withdrawn same day.
Mr Avoka said a total of 10 legislative Instrument and two Constitutional Instruments were presented to the House during the meeting majority of which have come into force.
He said 125 questions were asked for oral and written answers during the meeting of which 6 were urgent in addition to loan and international agreements.
He reminded members of the loss of three members who are, Alhaji Saani Iddi, member for Wulensi and Mr Emmanuel Asamoah Owusu-Ansah, member for Kwabre West, who both passed on June 4, 2012 and June 22, 2012 respectively and Adamu Daramani-Sakande who was convicted and sentenced by the High Court.
GNA