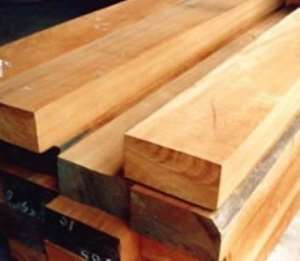 Deputy Minister of Lands and Natural Resources, Kwadwo Owusu-Agyeman, has inaugurated a 12-member task force to curb the export of illegal timber from the country.
The inter-agency task force constituted by the Ministry of Lands and Natural Resources is expected to curb the export of rosewood and teak in particular.
It is envisaged that the Taskforce's intervention will help highlight challenges in implementing the ban on the issuance of licences to harvest rosewood and bring up proposals to assist the Ministry address the unsustainable exploitation of the nation's forest resources.
The terms of reference of the task force include investigating the source of logs that are being shipped and referring illegal cases detected to the Ministry "for the necessary action to be taken".
Mr. Owusu-Agyeman explained that the task force will liaise with various shipping agencies to monitor the release of containers loaded with teak and rosewood.
"The task force will work for an initial period of three months, after which it will be mandated to determine the next move. We should be able to strengthen the capacity of regulatory agencies to effectively take up this function as well as improve collaboration between these agencies," he said.
Professor Bruce Banoeng Yakubu, Chief Director of the Ministry, explained that there was leakage in the timber industry as a result of the illegal activities, adding: "wood is illegally harvested and put into containers and then exported, and the country is losing a lot of money as a result."
He said on a daily basis several trucks and containers loaded with rosewood and teak, harvested illegally from transitions zones, are packaged to look like transit cargo from Ghana's neighbouring countries.
Prof. Yakubu urged members of the task force to work hard to block the leakages and ensure sanity in the timber industry.
Other members of the task force include Alec Oppong and Nii Nikoi Amasa of the Ghana Ports and Habours Authority; Seidu Adam from the Ministry of Finance; Appiah Doyina from the Ministry of Trade and Industry; and Kwaakye Ameyaw, representing the Forest Services Division of the Forestry Commission.
The rest are Eric Abequeye from the Timber Industry Development Division; Kwame Owusu Bamfo and Kit Laryea, representatives of the Ghana Revenue Authority (GRA); and DK Glover, John Boadu and R.A. Bediako representing the National Security, the Attorney General's Department and civil society organisations respectively.