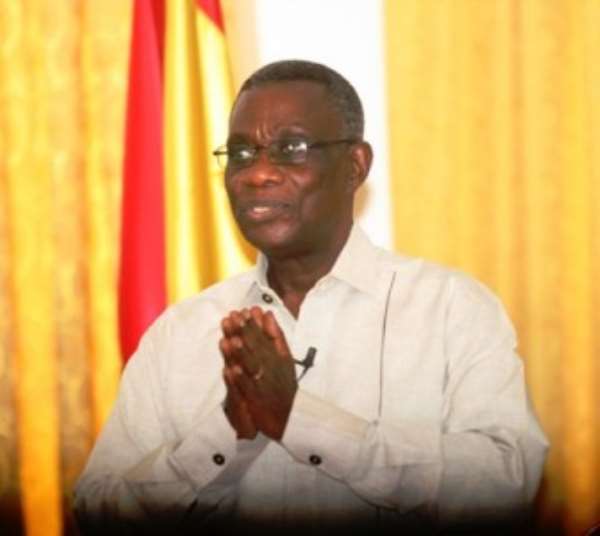 Sunyani (B/A), Aug. 13, GNA – Nana Amankona Nimpong, a Senior Citizen of Sunyani, on Monday said he would always remember the late President John Evans Atta Mills for a number of good reasons, particularly his humility and love for the ordinary man.
The 68 year old man, who is the Akwamuhene of Dormaa in the Brong-Ahafo Region, was speaking with the Ghana News Agency (GNA) in Sunyani over the weekend.
He said during his three-and-a-half year Presidency, Professor Mills sacrificed in so many ways for his nation called on other Ghanaians to emulate his life-style, in the interest of socio-economic growth of the nation.
According to him, he defied medical advice and watched the funeral on television as a sign of respect and friendship for the man who truly loved Ghana.
"That was my modest price that I had to pay to bid my beloved late president fare thee well", Nana Nimpong said.
He advised the Ghanaian youth to take a cue from the late president and learn hard to build their own future and that of the nation.
Nana Nimpong appealed to leaders of the various political parties to unite after the sudden death of professor Mills and build peace in the country more especially before, during and after the forthcoming December, 2012 elections.
Such a peaceful co-existence could come about only if the leadership of the various political parties would honestly advise their subordinates to mind their utterances on airwaves when debating or discussing issues, he noted.
The senior citizen condemned the persistent vilification of the nation's political leaders on radio by "serial callers" and urged such people stop the practice.
GNA