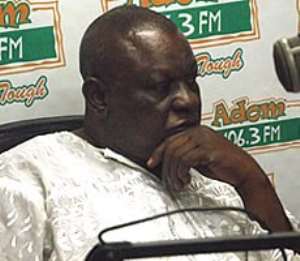 The Managing Editor of the Al Hajj newspaper, Alhaji Iddrisu Bature says Ghanaians must do a thorough introspection as the late President John Atta Mills is laid to rest Friday.
Bature said Mills' death should be the turning point for decency and decorum in the country's political discourse ahead of the December general elections.
As the funeral ceremony of the late John Mills enters day two, scores of Ghanaians thronged the State House to catch a glimpse of the lifeless President who has been laid in state at the Banquet Hall for filing past.
The funeral ground was emotionally charged as mourners both home and abroad paid tributes to the late President, whose sudden death occurred at the 37 Military Hospital on 24th July, 2012.
Speaking on Asempa FM's Ekosii Sen programme Thursday, Alhaji Bature said Ghanaians vilified the late President to his death.
According to him, the 'Father for All' and 'Asomdwe hene' was hounded to his death by those he claimed engaged in 'gutter politics' for political expediency.
He posited that the incessant vilification and insults on the late John Mills from both the opposition and the leading members of the ruling National Democratic Congress (NDC) who claimed he [Mills] was not qualified to be president contributed to his sudden demise.
Alhaji Bature said he was happy and fulfilled as he watched the lifeless body of late President lying in state because "he [Mills] was at peace with himself".
The Al Hajj editor also cautioned the media to be circumspect in their reportage during the electioneering campaign since according to him, the pen is more powerful than a gun.
He said the media should blacklist politicians who would use their platform to incite people against each other to avert any pandemonium in the country.
Alhaji Bature prayed the peace the country has witnessed following the sudden death of John Mills will continue to prevail during and after the December polls.