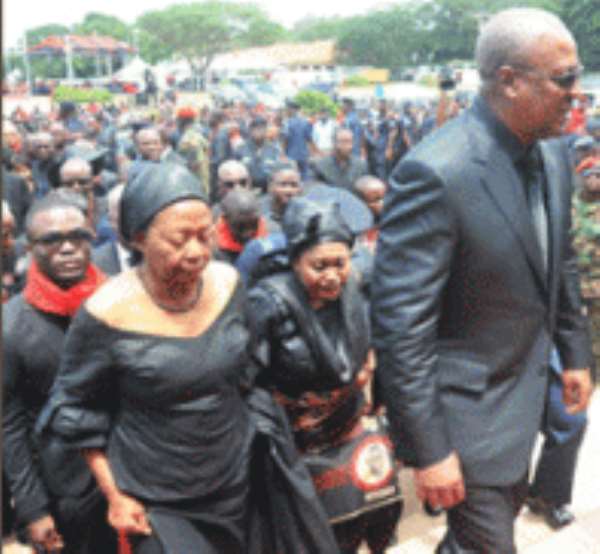 President John Dramani Mahama today led the country to begin ceremonies to say the final farewell to his predecessor, President John Evans Atta Mills, who passed away on July 24 at the 37 Military Hospital in Accra.
President Mahama, who arrived at the State House with his wife, Lordina, just after 11:00 hours, was dressed in a black suit and tie.
He went up the stairs with the widow of the late President Mills, Dr Ernestina Naadu Mills, Vice President, Kwesi Bekoe Amissah-Arthur and his spouse, security chiefs, traditional leaders, members of the late President's family, Members of the Council of State, chiefs, officials of the ruling National Democratic Congress (NDC), Ministers of State and government officials.
President Mahama was the first to pay his last respect as the three-day State funeral started.
The body of the late President Mills, dressed in a suit, is lying in state at the Banquet Hall of the State House with a glass screen around it. There is a bouquet of flowers in the national colours at the feet of the body. The Banquet Hall is also decorated in national colours.
It will remain at the Banquet Hall today and tomorrow for public viewing. There will be vigils today and tomorrow.
Scores of dignitaries from across the world are expected to attend the funeral. They include African Union Chairman Benin's President Yayi Boni, Economic Community of West African States Chairman, Ivorian President Allasane Ouattara, as well as the Presidents of Nigeria, Togo, Burkina Faso, Senegal, and Tanzania.
US Secretary of State Hillary Clinton is also expected in Accra.
Source: GNA