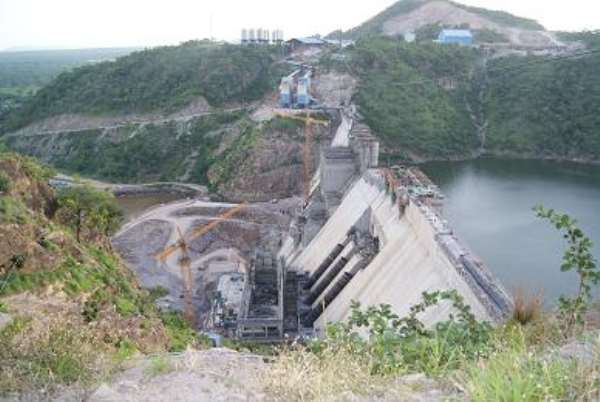 By Bernice Bessey
Efforts to meet scheduled time for the completion of the Bui Hydroelectric Project by the end of the second quarter of next year, is on course.
As at July this year, civil (concrete) works at the main dam stood at 95 % completed. And the main focus of activities currently is shifted on the completion of the intake gates to retain water.
According to a press release signed by Bui Hydroelectric Project external public relation officer, Gabriel Apatu ,  the water level has reached 140.38 metres since it impoundment on 8th of June, 2011, and July 20, 2012, but design report on hydrology indicate that the reservoir will need two additional rainy seasons to attain the minimum level required to start power generation.
89% of civil works for powerhouse units one, two, three and the erection bay have been completed. The generators are now being assembled and erected while the installation of runners (turbines) and other turbo-generator components have commenced in earnest.
On July 19, 2012, the turbine shaft of the third unit was successfully installed. The turbine shaft will transfer mechanical energy from the turbine to the generator.
Finishing works have resumed on the downstream Permanent Bridge which is about 90% complete. This bridge, constructed across the Black Volta River, will serve as another link between the Brong Ahafo and the Northern Regions to enhance road transport and enable the communities in the project area have a better life.
Work on Saddle Dam one, which is located about 2km from the main dam, is also about 85% completed. Work is yet to commence on Saddle Dam two, which is 3km from the main dam.
252 out of the 633 towers have been erected, representing 40% of works to aid evocation of power from the Bui plant.
The stringing of the lines is also ongoing with 125 of the towers strung, thus 20% complete. This is because Power produced from the plant will be evacuated from the Bui Switchyard through four (4) 161kV transmission facilities.
These facilities will send the power produced from the Bui Generating Station to four GridCo substations in Sawla, Techiman, Kintampo and Sunyani.
The Bui Power Authority in an assistance with the Land Valuation Division of the Lands Commission, acting on behalf of the Government of Ghana has completed payment of the first batch of crop compensation, amounting to GHc1,114,209 million to 580 farmers whose farms have been affected by the ongoing Bui Hydroelectric Project.
The next batch of compensation payments will cover economic trees and crops affected by the construction of transmission lines and substations as part of the Project.