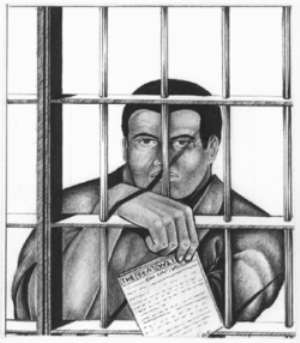 Mpraeso, (ER) Aug. 7, GNA - Mahamadu Belko, a 25-year-old Fulani herdsman, has been jailed 30 years in hard labour by a Circuit Court at Mpraeso for robbery.
Belko pleaded guilty for robbing passengers on a mini-bus of their monies and mobile phones at Kwame Dwamena, in the Kwahu North District.
Police Detective Inspector Christian Apronti, told the court presided over by Mr Kwaku Osei, that on June 6 this year, at about 1730 hours, Belko and seven others currently on the run, stopped a Nissan mini-bus being driven by Alex Amposah with eight passengers on board from the Akate market at Kwame Dwamena.
He said the eight Fulani herdsmen, wielding guns and cutlasses, fired warning shots and ordered the passengers out of the vehicle.
Insp. Apronti said when the passengers came out of the vehicle; the herdsmen forced them to lie on the ground and they (herdsmen) took their mobile phones and various sums of money and caused damage to a portion of the vehicle.
The prosecution said the herdsmen also robbed a trader on a motorbike, which was following the vehicle and later they escaped into the bush.
Insp. Apronti said on June 20, Belko was arrested in connection with cattle stealing case in a nearby village and during interrogation he admitted that he was a member of the gang of robbers who robbed passengers on board the mini-bus at Kwame Dwamena.
GNA