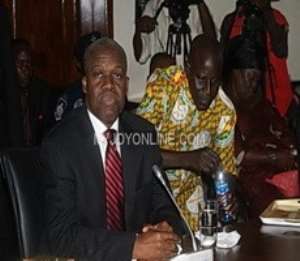 Paa Kwesi Bekoe Amissah-Arthur has denied speculations that the Bank of Ghana has imposed a levy on forex accounts.
According to the Vice-President designate, what the BoG has rather done was to limit the total amount of foreign exchange that can be withdrawn over the counter.
The Governor of the BoG, appeared before Appointments Committee of Parliament Monday following his nomination as Vice-President by President John Mahama.
According to Amissah –Arthur, what the Bank of Ghana sought to do was to put in place an anti-money laundering mechanism hence the $10,000 ceiling put on foreign currency withdrawal which he stated was a norm which is common in most parts of the world.
The Vice-President nominee stated the Bank of Ghana are putting strict measures in place to reverse the dollarization of the economy which he said had led to a lot of banks holding large chunks of their total deposits in foreign currency.