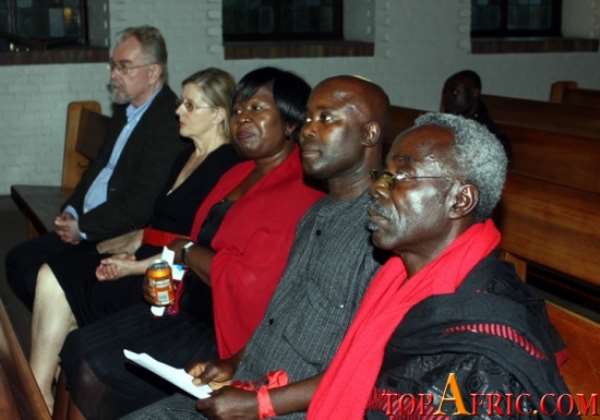 Ghanaian community in Hamburg and environs held a solemn requiem church service over the weekend to end up their one week celebration of the late Prof. John Evans Atta Mills to show condolence to the bereaved family and the good people of Ghana.
Adage states that, "Abrokyire nyinaa ni Hamburg" literally means when one talks about cities in Germany, it's Hamburg. People back home even misconstrue most travelers from the Diaspora to have come from Hamburg hence the name "Burgers".
Unlike Ghana lands whereby celebrations are held during working days, people living in the Diaspora typically Ghanaians in Germany because of their working schedules and of course self-executing decree (Traditions); they meet on Saturdays to organize their various social events. This necessitated the shifting of the one week celebration to last weekend Saturday 4 August.
The service took place at the Methodist Church of Ghana – Berlier Tor (Hamburg) and was officiated by the African Christian Council. The moderator, Pastor Felix Boateng backed by Pastor Ossai Okeke and Apostle Bona Sireboe joined other pastor Colleagues to offer fervent prayers to the bereaved family as well as the people of Ghana for peace and tranquility to prevail during the upcoming general elections.
Special Guests included, Mr. & Mrs. Werner - who represented the Ghana Honorary Consulate (Consul Stephan Buhrich) remarked that, they were very impressed about the swift response though time of notice was brief.
Also present were Mr. & Mrs. Anderson and other bereaved families, delegates from the Hamburg Catholic Mission led by Peter Frimpong (Catechist) and Sir James Mensah (General Secretary). Community Leaders led by Opanyin Koo Kusi – (Sompahene); Mr. Dwamena Yeboah (renowned Businessman), various local unions; Muslim Community and others. The late President's Party members and executives (NDC) were present.
The departed President Mills was however a father for all Ghanaians and therefore the planning committee earnestly advised to avoid partisan and tribalism. They (C'ttee) further unveiled plans to conduct final funeral rites and thanksgiving service respectively after the burial in Ghana. Date and venue shall be announced later.
The Ghana Union Hamburg under the leadership of Vice president Mrs. Mary Oduro and Fofie Donkor (Secretary) though monopolized the organizing process have exceptionally done well. Ghanaian community owes them appreciation.
In her thanks-giving message to the Audience, Mrs. Oduro expressed her profound thanks to all Ghanaians especially the officiating pastors, the Consulate and added that "Ghana union could not have done it alone without the support of NDC executives, the planning committee and other sympathizers".
"The proceeds from the offertory shall be used to organize a beautiful designer condolence wreath to be presented via DHL to the government and the bereaved family during the burial day of Our Beloved Late President for and on behalf of all Ghanaians in Hamburg" Mrs. Mary Oduro assured.
Report by: Mensah Dekportor (Hamburg)
www.topafric.com +49(0)17634165647