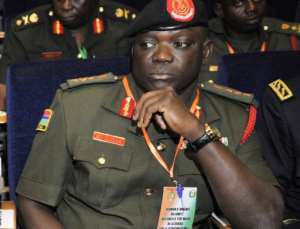 BANJUL (AFP) - Gambian President Yahya Jammeh has appointed his ex-army chief as deputy ambassador to Cuba, a foreign ministry source said Friday, the latest in a series of military officials to be posted abroad.
General Masanneh Kinteh, who was sacked on July 7, joins other top officials who have been fired and reassigned as deputy ambassadors to various countries including the United States and India.
Kinteh, who was briefly questioned by intelligence officers before his dismissal "is now appointed as Gambia's deputy ambassador to Cuba," a source at the ministry told AFP Friday.
Earlier in May, the heads of the navy and presidential guard and the former deputy chief of army staff were relieved of their duties and appointed as deputy ambassadors to Freetown, Washington and New Delhi.
Two other generals were also sacked and appointed deputy ambassadors to Nigeria and Saudi Arabia.
Security experts and politicians see Jammeh's move as a sign of growing insecurity in a country where many senior security officers and civilians have been jailed for treason and other related charges.
Advertisement
"This is a man who for the past 18 years has put so many people in jail for merely opposing his governance policies, so he no more feels secure and gets rid of anyone he sees as a threat to him," a retired army captain said on condition of anonymity.
Jammeh, himself a former military officer who seized power in a 1994 coup, brooks no dissent in a country often blasted by rights bodies for torture, disappearances and arbitrary arrests. He was re-elected for a fourth term last year.
"Arresting people and detaining them at Mile II prison or parading them before national television or sacking army generals just to reassign them to the diplomatic service because they oppose his regime is not the solution to the country's problems," said Hamat Bah, leader of the opposition National Reconciliation Party.
A senior police officer, speaking on condition of anonymity said: "I think the recent developments in the country are all signs that the president is somehow paranoid now and does not trust any of his most senior generals anymore."