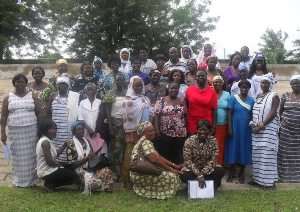 Tongo (U/E), Aug 3, GNA - The Community Development Advocacy Centre (CODAC) is facilitating involvement of women in decision making in traditional councils in the Upper East Region.
CODAC, through one of its projects entitled "Amplifying the Voice of the Vulnerable" sponsored by Strengthening Transparency Accountability and Responsiveness in Ghana Programme (STAR-Ghana), has built the capacity of 37 women and facilitated involving them in the councils in the Tongo Traditional Area.
Speaking at a stakeholders' meeting at Tongo organized by CODAC that brought together traditional authorities, women groups, assembly men and women, Mr Issaku Bukari, Programme Manager, commended traditional authorities for accepting to involve women in decision making at the traditional level.
He appealed to the 37women to live up to the challenges and confidence reposed in them, stressing "it is only through this that you can justify your inclusion in the traditional councils".
Mr Bukari said the project was also being implemented in three districts and named them as the Garu-Tempane , Builsa and Bongo districts and in the Garu-Tempane District where 36 women were working actively with traditional councils.
He said the goal of the project was to consolidate and sustain the efforts of community based groups especially women for enhanced engagements with traditional authorities and local government agencies for equitable development in its operational areas.
Mr Bukari said the projects would lead to increase in the number of women in traditional councils and other decision making organizations.
"It will also lead to inclusion of women in the Upper East Regional House of Chiefs, and other traditional decision making structures," he said.
Mr Bukari said CODAC had built the knowledge of about 400 women on policies and legislations on women's rights to empower them to participate in decision making and also enhanced about 100 women who are directly engaged in advocacy, lobbying and negotiation at the community and district levels.
Mr Bukari appealed to all traditional councils in the Region to embrace the concept of allowing women to participate in decision making to speed development.
The traditional authorities from Sepaat, Gorogo, Balungu, Yameriga and Tongo-Beo pledged their support to ensure that the women participated fully in decision making.
GNA