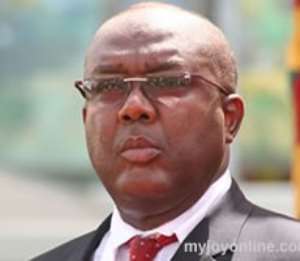 A Vice Chairman of the ruling National Democratic Congress (NDC), Danny Annan has noted that comments made by Eastern Regional Minister, Victor Smith about the President's nominee for Vice President were not guided by the party's motto.
The Eastern Regional Minister had stated that, the National Democratic Congress will be gambling in this year's elections if the party presents the Governor of the Bank of Ghana, Paa Kwesi Amissah-Arthur as running mate to President John Mahama.
He added that the 2012 elections are crucial to the party hence the party cannot afford to gamble with its fortunes in the December polls by presenting a running mate who does not have the urge in mobilizing the grassroots.
The Minister however retracted the comments and rendered an unqualified apology to the President, John Dramani Mahama.
The NDC Vice Chairman, speaking on Election Headquarters on Joy FM Friday, said he was happy that the Minister has found it expedient to render an apology for the comments.
Danny Annan, however, urged that people should be guided by the party's motto, which is Unity, Stability and Development, stating, "I want to believe that if we were guided by this principle we wouldn't have been rushing to the media and make such comments."
He believed that although there will be divergent views on Amissah-Arthur's appointment because there are a lot of people who might not know him as a core member of the party; he urged leaders of the party to ensure that the rank and file know him.
"There is no single member of our party who will want the party to go to opposition because of a single personality," he noted, assuring they will work tirelessly for Amissah-Authur if he is the one President Mahama wants to work with.
Pollster, Ben Ephson touching on the matter observed that Victor Smith's comments were the "right comments but the wrong channel," because there are always divergent views on every issue.
He said the manner in which it was done, was not the right way adding unknown to many, the Bank of Ghana Governor has been very active in the NDC for about 28 years now – during the PNDC era.
Citing examples, Ben Ephson said, "In 2008, Dr Bawumia did not have a party card of the NPP and I don't think that the NPP lost in 2008 because Dr Bawumia didn't have a party card," adding, it depends on how the NDC handles the situation.
He urged that, "everybody needs to come on board," to rally behind its candidates warning if they don't let bygones-be-bygones, they will help the party go into opposition.
He concluded that next week's vetting of Amissah-Arthur is an opportunity to lay the cards bare on who he is.