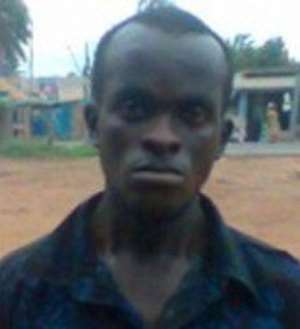 A 21-year-old unemployed man who could not control his libido and ended up defiling an 11-year-old boy has been handed a 10-year jail term by an Accra Circuit Court.
The convict, Benjamin Sam, admitted to committing the crime by having annal sex with the boy, when he was put before the court presided over by Sedina Agbemava.
The trial judge convicted him on a charge of defilement and sentenced him to 10 years.
The prosecutor, Chief Inspector I.A.A. Ahor, informed the court that the victim was a pupil living at Chorkor while the accused person was unemployed, living at Mamprobi.
He narrated that on July 30, 2012 at about 1:00pm, the victim went to the seaside to play football with friends.
On his way home, he met the convict who called him. The victim refused to attend to his call and immediately took to his heels.
Sam, who was bent on pouncing on the poor victim, chased him and when he caught up with the victim, he pulled him into a wooden structure, removed the victim's shorts and inserted his penis into his anus.
Sam, after sexually abusing the victim, ordered him to leave the scene, immediately.
The victim reportedly started weeping and this attracted the attention of a group of good samaritans who apprehended the accused and handed him over to the police.
In Sam's caution statement, he admitted to the offence and was subsequently charged with defilement.