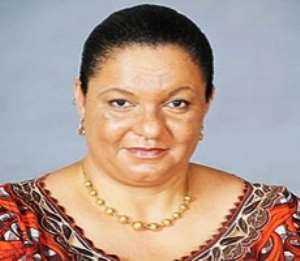 The Minister of Trade Hanna Tetteh says President Mahama's decision to nominate former Bank of Ghana boss as his Vice, is a good choice.
Ms. Hanna Tetteh who prior to Mr. Amissah-Arthur's nomination was linked to the vacant post, said in a release on Friday that, Paa Kwesi Amissah-Arthur is "competent, knowledgeable, experienced and a fine gentleman".
"I have had the pleasure of knowing Mr. Amissah Arthur for a number of years now and I can say with confidence that he is competent, knowledgeable, experienced and a fine gentleman. He was a great friend of His Excellency the late President John Evans Atta Mills, and his commitment to the National Democratic Congress is unequivocal", she insisted.
The Minister declared her support to both the President and Vice President to achieving the set goals of the ruling NDC party.
"I will always be loyal and steadfast in my support to His Excellency the President, our new Vice-President and the National Democratic Congress and look forward to working with His Excellency the President and the new Vice President to continue to develop our country and improve the lives of our people", the statement affirmed.
She called on the rank and file of the party to "rally around our new President and support him to ensure that we continue to work and fulfill the desire of our late President - His Excellency President Mills to build a Better Ghana for the people of our country".
"May the Soul of our late President rest in peace and may those of us left behind work assiduously to achieve his vision. May our Government achieve our goals of improving the lives of the people of this country, that is why we have been elected, and that is the work we must do".

Story by Ghana/Myoyonline.com