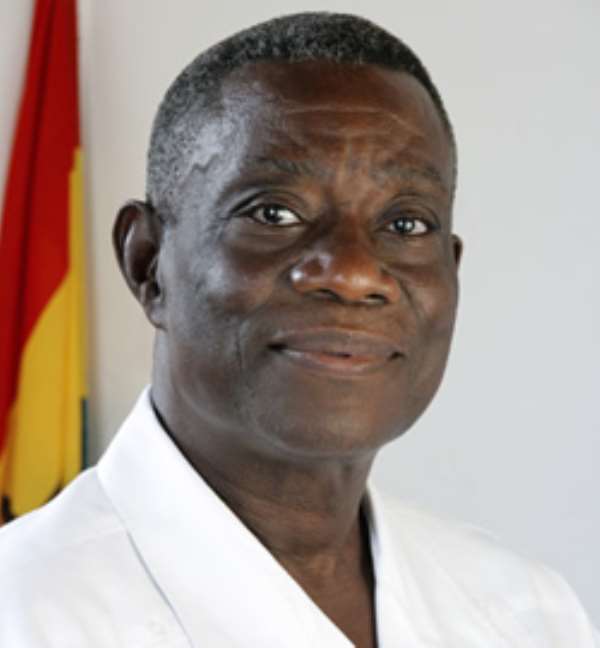 Ghana High Commissioner to UK His Excellency Prof Kwame Danso-Boafo has strongly advised that it will be a bad idea to bury the late President H.E. Prof J.E.A. Mills at the proposed burial ground by the Funeral Planning Committee.
Prof Danso-Boafo argued that "the late President Prof John Mills would be sad in his grave, if the committee finally reach a decision to bury him at the flagstaff house. He added that Prof Mills would have rejected it if he was told he would be buried at the flagstaff house (Jubilee House) when he dies". Prof Danso-Boafo was speaking to Ghanaians on Wednesday 1st August, at our sister radio station in London - Naspa Radio-UK; on its flagship morning show program popularly called "Wano, Mano, Yen Nyinaa Yano Pe Asem".
Prof Danso-Boafo explained that, Prez Mills was a modest man and for that matter he (Prez Mills) refused to live in such 'gargantuan' edifice, whilst his people wallow in poverty and some of them living at deprived places in Ghana. The High Commissioner further rationalised that "President Mills was a humble man, peace loving and had his people at heart, that's why he (Mills) decided not to live in the Jubilee House". He embellished his statement by saying that, the late President was his personal friend and their friendship traces back to when both of them were lecturers at the University of Ghana, Legon, to the time of Rawlings' era when he met with the late President again as Vice President when he (Prof Danso-Boafo) was the Minister for Health under President Rawlings.
Prof Danso-Boafo then explicated further that "after working with Rawlings as a minister for Health, I decided to go back to teach at the university, I decided also that I will not do public service (Politics) anymore, until Prof Mills met me again in 2008 during his (Mills) electioneering campaign leading to his ascension to the highest position of the land as President". Prof Mills then expressed his disagreement with me that 'good people' like me (Danso-Boafo) should not leave the politics, and promised me of a position in his government if he (mills) wins the election. "Eventually he won and I received a call from Prez Mills one early morning to meet with him at the state house where he charged me to be part of his Transitional Team. After that, I heard my name mentioned in media that I have been appointed as the High Commissioner to UK.
Though, Prof Danso-Boafo suggested that "the state should try and find a befitting place not only for our Presidents but for any Ghanaian who plays an exemplary role in the building of our dear country". He appealed to all Ghanaians to stand united as one people.
H.E. Prof Kwabena Danso-Boafo's comment comes after the Funeral Planning Committee of the late President John Evans Atta Mills seems to have settled on the Flagstaff House as the final resting place for the late President; a decision which is facing severe criticism from many Ghanaians in the UK and also from some family members of Professor Mills and the members of the opposition New Patriotic Party in Ghana.
Nana Sarkodee
Sources Radio UK.
Tel: 07950318943
[email protected]