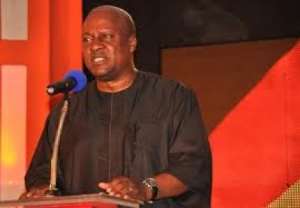 Accra, July 31, GNA – President John Dramani Mahama on Tuesday asked the youth to rally behind him to successfully steer the affairs of the nation.
After leading thousands of mourners at the Efua Sutherland Children's Park in Accra to observe a minute's silence at 1415 hours to honour his predecessor, President Mahama explained that historically, he is the first President to be born after Ghana's independence, having been born in 1958.
He said he believed that God in his own wisdom had handed the mantle of national leadership to the post independence generation, therefore, it was important that they worked together to prove themselves worthy and creditably to the admiration of the older generation.
"I cannot do it alone, I cannot do it without you," he stressed, and encouraged all and sundry to put their shoulders to the wheel.
On the funeral of the late President Mills, President Mahama reminded Ghanaians that it was a national affair and nobody should be excluded.
Meanwhile, Ghanaians across the nation are in diverse ways observing the week's celebration, clad in the customary mourning colours of black, red and brown.
Tributes, dirges, dancing and singing of patriotic songs were at the centre of these activities.
President Mills, who assumed office in January 2009, passed away at the 37 Military Hospital at exactly 1415 hours last Tuesday, July 24.
The funeral and burial of President Mills has been scheduled for August 8-10.
GNA