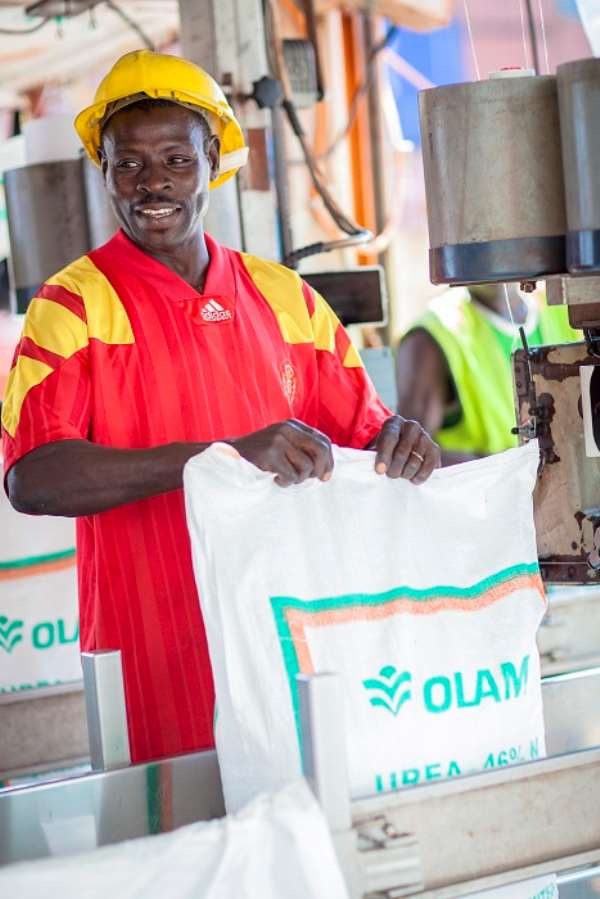 Ghana, Accra July 25, 2012: OLAM Ghana Limited (OGL) has imported 30,000 mts of fertilizers to support the Fertilizer Subsidy Programme (FSP) of Ministry of Food and Agriculture (MoFA).
This is expected to help farmers increase their rate of fertilizer application as a means of increasing crop productivity and production, and also to increase the country's fertilizer application rate and improve the supply and access of small scale farmers to subsidized fertilizers to ensure food security.
"Ghana has one of the lowest rates of fertilizer application in sub Saharan Africa and OLAM sees this as an opportunity to partner government to increase the rate of fertilizer application in the country to increase farmers' ability to produce more food to feed millions of Ghanaians. OLAM Country Head, Amit Agrawal has said.
He pointed out that fertilizer use is not an end in itself; rather it is a means of achieving increased food production.
Increased agricultural production and food availability can, in turn, be seen as an objective for the agricultural sector in the context of contributing to the broader macroeconomic objectives of Ghana. He stressed.
"With our presence and sourcing strength at all the manufacturing countries, Olam promises to ensure the best international quality of fertilizers to the farmers of Ghana." He added.
OLAM sees this as a strategic move in consolidating its relationship with farmers and government's efforts in addressing the food security concerns of the country by supplying high quality fertilizers to MoFA under the FSP for onward distribution to thousands of farmers dotted across the length and breadth of Ghana.
OLAM is a leading global supply chain manager and processor of agri- commodities and has presence in 65 countries with 24 countries in Africa alone. Olam has made significant investments in Africa with over 30 manufacturing facilities including a 1.3 billion USD Fertilizer plant in Gabon.
OLAM Ghana limited plans to build on its present partnership with the distribution channel across products and establish strong, cordial and transparent business relationship with all of its distributors in the agri-input industry.