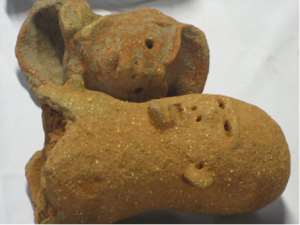 Two of the Nok sculptures American officials returned to the Nigerian Consul-General on July 27, 2012.
"It is indeed unfortunate that so much Nok material has been looted over time to supply the international market. Properly excavated, such pieces might have shed valuable light on the Nok culture.
It has been reported in the home page of the U.S. Immigration and Customs Enforcement's (ICE) and Live Science, that Nigerian Nok sculptures, illegally exported from the country and seized by the US authorities (Homeland Security Investigations (HSI) and Customs and Border Protection (CBP) at the John F. Kennedy Airport, New York, have been handed over to the Nigerian Consul-General, Habib Baba Habu, in a repatriation ceremony. Ten Nok sculptures, over 2000 years old, and an ivory tusk were given to the Nigerian official.(2)
At the repatriation ceremony, the Nigerian Consul General is reported to have said with respect to the many Nok sculptures that are abroad that:
"Many of them are at museums all over the world, some were taken out legally."
Habib Baba Habu also said that the items were stolen from the national museum in Nigeria, but that "There is no report of the items being stolen so now the director-general of the Nigerian museum and antiquities is now being subjected to an investigation."
We have commented several times elsewhere about the manifold issues involved in the illegal exportation of these sculptures which are considered to be very important for the history of Nigeria and therefore are on ICOM's Red List of artefacts that should under no circumstances leave Nigeria. (3)

One of the Nok pieces handed over to Nigeria.
There have been persistent allegations that some Nigerian officials may have been involved in the illegal export of Nok terracotta and the Nigerian Consul-General has stated that some officials are under investigation in connection with the export of the artefacts handed over in New York. What we expect of the Nigerian authorities is a full independent investigation of this matter and a public presentation of a report thereon. Also necessary would be the publication of a complete list of import authorizations given by the National Commission for Museums and Monument. This will help in determining which of the Nok pieces in the West have been legally or illegally exported. In this connection, it is clear that after the ban on exportation of Nok pieces and their inclusion on ICOM's Red List, there could be no legal exportation of the objects. There may be cases of legal exportation, with the permission of the National Commission on Museums and Monument, before the ban. This is very difficult to determine in the absence of a list of permission issued to date by the Commission. There has been a ban on export of antiquities from Nigeria without permission from the authorities as far back as the 1953 Antiquities Ordinance. The relevant laws, ordinances, and decrees issued in 1969, 1974 and 1979 have been consolidated in the National Commission for Museums and Monuments Act, Chapter 242, Laws of Nigeria, 1990. Section 25 (1) of the Act provides that "no antiquity shall be exported from Nigeria without a permit issued in that behalf by the Commission."
In view of the many Nigerian artefacts outside the country, it is remarkable that one seldom reads about list of items declared missing from the Nigerian National Museum. We also do not hear about attempts made to recover lost items through Interpol or bodies such as Art Loss Register or similar agencies. Cultural objects get lost/stolen in Nigeria but no one seems to report regularly such losses.
Also to be avoided by the Nigerian authorities is the situation where a high official from Nigeria opens an exhibition in which looted/stolen Nigerian artefacts are among the objects displayed without an indication that they are looted artefacts. We could also be spared the situation where a Nigerian official writes a foreword to a catalogue of exhibition including looted Nigerian artefacts.
A firm, clear and full statement from the Nigerian government on restitution matters and an indication of a determination to recover artefacts illegally exported from Nigeria would be a useful contribution to the fight against illicit traffic in artefacts from Nigeria. Those entrusted with the preservation and conservation of the magnificent cultural artefacts of Nigeria cannot afford to disappoint future generations.

Nok figurines handed over to Nigeria's Consul-General Habib Baba Habu.
at repatriation ceremony
"The looting of archaeological items and the destruction of archaeological sites in Africa are a cause of irreparable damage to African history and hence to the history of humankind. Whole sections of our history have been wiped out and can never be reconstituted. These objects cannot be understood once they have been removed from their archaeological context and divorced from the whole to which they belong. Only professional archaeological excavations can help recover their identity, their date and their location. But so long as there is demand from the international art market these objects will be looted and offered for sale. (4)
Kwame Opoku

NOTES
1. Ekpo Eyo, From Shrines to Showcases: Masterpieces of Nigerian Art, 2010, Federal Ministry of Information and Communication, Abuja. p.23
2. http://www.ice.gov/news/releases/1207/120726newyork.htm
Wynne Parry, "Ancient Statues Smuggled from Nigeria to Return Home" http://www.livescience.com/21891-nigeria-nok-statues-smuggled.html
http://africanartswithtaj.blogspot.co.at/
3. K. Opoku, "Revisiting Looted Nigerian Nok Terracotta Sculptures in Louvre/ Musée du Quai Branly, Paris, http://www.modernghana.com/news/339922/1/revisiting-looted-nigerian-nok-terracotta-sculptur.html
-"Let Others Loot for You: Looting of African Artefacts for Western Museums", http://www.modernghana.com/news/217755/1/let-others-loot-for-you-looting-of-african-artefac.html
- "A Blank Cheque to Plunder Nok Terracotta? http://www.modernghana.com/news/158516/1/a-blank-cheque-to-plunder-nok-terra-cotta.html
- NOK ONCE MORE http://www.museum-security.org
-"Recovering Nigeria.s Terracotta,"http://www.modernghana.com
Eric Huysecom, » Le pillage de l'histoire africaine » http://www.letemps.
Patrick J. Darling, "The Rape of Nok and Kwatakwashi: the crisis in Nigerian Antiquities", http://www.mcdonald.cam.ac.uk
4. Preamble to ICOM red List Africa. http://archives.icom.museum/redlist/afrique/english/intro.html