28 July 2012
|
Business & Finance
TACKLING YOUTH UNEMPLOYMENT THROUGH ENTREPRENEURSHIP:THE CASE OF ATTITUDE OF THE EDUCATED YOUTH TO SELF-EMPLOYMENT IN GHANA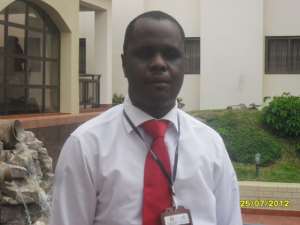 1.OUR CONCERN The Foundation for Youth Peace and Development (FYPD) is strongly convinced that efforts at tackling youth unemployment in Ghana and other countries in the West African sub-region , which now stands at 18.1% would not yield the result desired, if policy makers do not embark on vigorous and radical work of orientation , aimed at presenting self-employment as a respectable and worthy alternative to the traditional forms of employment, especially among products of the nation's tertiary institutions.
FYPD's experience with tertiary students in Ghana reveals the desire (and not the wish) of an overwhelming seven (7) out of ten (10) of them to work for others (i.e. Government, companies etc.) instead of creating jobs for themselves. Probing further ,it came to the fore that the compelling reasons for this desire to work for others is either convenience or security or both.'' That is the most reasonable thing to do. It is the norm'' Emphasized a young man who has just graduated from the university.
But that is the truth .It is common Knowledge that the expectation of the Ghanaian society as a whole of people who have acquired formal education is to seek employment and not to create employment for themselves.
2. LETS TAKE A CLOSE LOOK AT THE FOLLOWING SITUATIONS
I. An obviously disenchanted young lady of Dome, a suburb of Accra was found one day complaining bitterly about her long stay at home several years after graduating from the University ''I have not been doing anything since I completed school. For now, I am helping my mother on her small poultry farm hoping that I will find a job one day ''.she said. Surpringly when a gentleman offered to help her to secure job in one of the well-established poultry companies in Ghana , given her experience in the poultry business, she gladly accepted the offer.
II. I saw a lady of about 25 years of age struggle to convey her wares to the Madina Zongo Junction lorry station one evening. I was worried about her struggle so I decided to offer a helping hand.
One thing that struck me is her impeccable English language. I was therefore not surprise when she later told me that she holds a BSc. in Accounting from the University of Ghana. I got to know later that she had great difficulty in telling me this because of the items she was carrying, something that had not even crossed my mind. I became more interested in the conversation , given my background as a youth worker and wanted to know whether she was into petty trading. The silence that followed my question was rather loud. Then finally she said ''this is something I do not like talking about and I hope you are by asking this question not trying to laugh at me, because I am only doing this for a while. I hope one day I will find a job and all these embarrassment will be over. Embarrassment, I found myself shouting. But that should be the case after all. Otherwise, how can an active young lady with her capacity for managing business greatly enhanced by university education dislike so much something that I see to be a clear opportunity for her to become a business magnate. But that shouldn't have surprised me that much, because my own experience when I decided to go into recharge card business upon completion of national service is not anything better.
The countenance of my friends toward my decision to retain the cards in kiosks and ''container'' shops at Kwashieman and Mallam, all suburbs of Accra was not only discouraging but also humiliating. There was this friend of mine who will always make sure that he stop a mile away , whenever he was in my company and I decide to check on a nearby sales boy in one of the kiosks. He did not want people to associate him with those ' things ' because he ,ironically holds a degree in commerce. Unfortunately I yielded to their ways. I sold the ''container'' shops and kiosks and stopped the business and that decision has become one of the great regrets of my life.
Fortunately, I have the opportunity to start all over again, may be even better because I have the benefit of a priceless experience.
So , when I found myself standing with somebody who was about to make the same mistake , I was not only sad but I also felt strongly challenged and morally bound to convince her that she had chosen the right course and should not only proceed with it, but do it to the best of her ability.' 'This is your opportunity to economic independence, all that you need is discipline, hard work, perseverance and consistent effort '',I found myself telling her as I help her to pack the goods into the commercial bus that was to take her home.
III. A similar story is told by the Proprietor of Action Progressive Institute in Accra and the Action Group of companies on television, of how his ambition to create employment for himself by starting Remedial classes for unsuccessful WASSCE candidates and joining the mainstream educational business , was utterly ridiculed by his course mates.
According to him, his mates could not comprehend how a holder of a certificate as prestigious as Masters of Business Administration should contemplate on running classes for students, instead of looking for job in the respectable corporate world. Fortunately he was not daunted. He held on to his vision and today he is counted among the accomplished businessmen of Ghana. Certainly, that is where the difference lies .It is not about prestigious certificate ,it is about vision.
So what accounts for this tendency for the educated Ghanaian youth to shy away from self-employment?
3. COULD IT BE LACK OF RESOURCES?
It is often said, that what keeps young people away from self-employment is lack of resources. But what is intriguing about this explanation is the amount of resources that the youth, at the same time, spend in order to work for others.
Sometimes it entails using between one to five years to search for jobs. Five years is definitely enough time to start and nurture an enterprise into a viable business. In other cases , school leavers with the help of their relatives and friends pay sums of money which in some situations, is more than enough to set up business. And what about the opportunity to tap the expertise and experience of professionals , including Human Resource Managers, accountants, administrative secretaries and a host of others they meet in the course of their job search, to set up their own business. Once again, that is where the difference is. It is not about knowing what you have but knowing the most helpful thing you can do with what you have.
4. CAUSES OF LOW ENTREPRENEURIAL SPIRIT AMONG THE EDUCATED GHANAIAN YOUTH: THE FYPD PERSPECTIVE
The FYPD is convinced , that the most important factor accounting for low entrepreneurial spirit among the educated Ghanaian youth is educational policy coupled with an educational system which has outlived its usefulness.
Whereas the demands of the national economy has changed tremendously since independence, Ghana and other countries in the West African sub-region continue to run educational system which were either fashioned , by European missionaries to train the natives as assistants in their missionary work or by colonial Governments to train file carrying personnel to basically, work in the bureaucratic set ups of those exploitative Governments.
Right from the word go therefore, the orientation of educational systems of West African countries was to train people to work for others and not to train people to depend on themselves. Unfortunately, not much has been done to reform the systems to address the challenges of the modern economy especially, the question of youth unemployment, by the various Governments since the collapse of the colonial empires
5. OUR RECOMMENDATIONS
A. The Educational System : We at the Foundation for Youth Peace and Development, believe that any effort at making entrepreneurship attractive to the youth must first and foremost consider vigorous and radical changes in the educational system.
Twenty-First century West African countries do need an educational system of colonial regimes that churns out timid and risk averse youth who are always prepared to maintain the status quo. What West African countries need is an educational system that:
• Encourages radical thinking so as to generate new business ideas.
• Inspires confidence and urges young people on to take the necessary risk that will bring about innovation and lead to economic transformation.
• An educational system that truly makes the youth problem solvers.
• A System that makes people truly independent
In line with the above we recommend the following : I. That entrepreneurship should be made a separate, examinable and compulsory subject in all first and second cycle institutions of Ghana.
ii. Different types of entrepreneur's club should be formed in all second cycle institutions. Membership of such clubs should be made compulsory to all students. Activities of such clubs should be supervised by teachers with background in business disciplines and accomplished entrepreneurs.
iii. At the tertiary level, the tenets of entrepreneurship should be incorporated into the curricula of polytechnics, universities etc.
iv. Entrepreneur's Resource Centers should be set up in all district capitals for National Service Persons.
B. We also wish to add the following:
I. A percentage of the Nation's oil revenue should be used to set up a fund to support school leavers who decide to create jobs for themselves.
ii. Government external trade policy must guard against undue trade liberalization so as to protect the businesses of young entrepreneurs.
iii. Accomplished entrepreneurs in Ghana must adopt and support young entrepreneurs to grow their businesses without necessarily presenting it as consultancy, which young entrepreneurs can hardly pay for.
iv. Motivational speakers should encourage the youth to be self-reliant
v. People working for others should be encouraged to set up their own businesses gradually and think of working for themselves eventually .
This way is easier because as income earners, workers can accumulate capital through savings. It is also more helpful, as far as, efforts at finding solution to the problem of youth unemployment is concerned , because it will encourage workers to retire before their retirement age is due thus , creating vacancy for fresh graduates.
vi. Finally, we must all work hard to ensure the stability of our democratic dispensation and its business friendly tenets such as the rule of law, respect for human rights etc. so that people can think of sacrificing their meager resources today, for a greater benefit tomorrow.
We believe, when these and many other important interventions are made we will be on our way to finding lasting solution to the problem of youth unemployment in Ghana and the West African sub- region at large.
Mr. Joseph Tetteh made this presentation at the foundation for futures leaders international sub-regional conference theme '' Youth Employment – Discussing the Implementation Strategies to address Youth Unemployment in West Africa''.