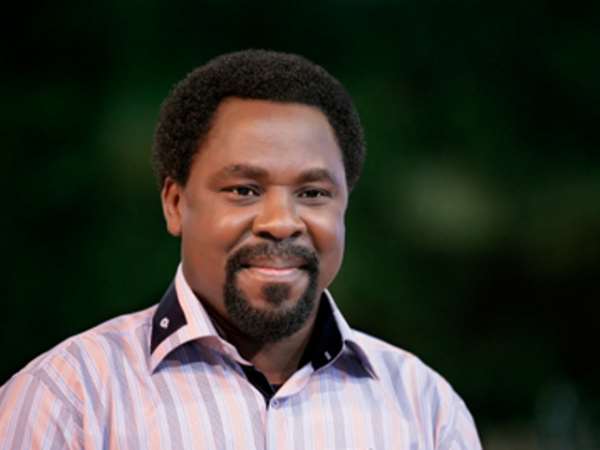 Prophet TB Joshua, the founder and general overseer of the Synagogue Church, Ikotun-Egbe, Lagos, has expressed profound shock over the death of the late president of Ghana, Prof. John Atta Mills, who died on Monday.
Speaking with LEADERSHIP exclusively at his Ikotun Synagogue Church yesterday, Pastor Joshua pointed out that he was indeed very sad at the death of the Ghanaian president, saying he did not receive any revelation concerning the death, otherwise he would have intensified more prayers to avert his demise.
The cleric pointed out that the late Mills was like a spiritual son to him whom he cherished deeply. He was the one who even predicted Mills victory as the Ghanaian president and that prophecy came to pass, he stated.
"Mills was a very committed person in the things of God and also very dedicated. Each time he was in church , you could see the fervor and hunger and thirst for God written all over his countenance. He was a very dear son to me and I was his spiritual godfather.
His death is a great shock and blow to me personally," said the cleric. "Of course, I knew he had been ill for sometime now and he had come for special prayers concerning his health thrice this year, and I and my other ministers had prayed fervently for him. I was so hopeful he would recover his health completely, but it is sad and only God knows best why he should die now.
"I know many persons will be saying how come my fervent prayers did not save his life. All I can answer such persons is, why did GOD allow Stephen in the New Testament Bible to be stoned to death. Why did God not save the life of Stephen, an innocent man, as he was being stoned, dying?
The answer is simply this: sometimes God allows things to happen for unknown reasons, and indeed reasons no man can explain, that is why God is Almighty Sovereign God; who indeed can question Him, who can challenge God?
"When we humanity eventually see God in the glorious city of Heaven, then, can we have answers to all our questions. For now, he can only get a 99 percent answer but never a 100 per cent answer."
Pastor Joshua pointed out that the late Mills was a very humble and dedicated leader who had many great plans on how to revolutionise the economy of Ghana for greater heights.
He said his death was "indeed a great loss to humanity at large and especially to the Ghanaian citizenry".
He disclosed that he had done so much concerted prayers for the late Mills' health and, aside his prayers, he said, the late Mills had also had frequent visits to the United States hospitals – three times this year alone - and yet God still allowed him to die."
Concerning the ailment that led to Mills' death, he said the late president was suffering from throat cancer.
The late president Mills had openly admitted that Prophet TB Joshua played a crucial role on his ascension to the presidency and even said so publicly in a thanksgiving service held at the Synagogue Church in March 2009.
According to the late Mills , the Prophet TB told him that the election would travel to the third round before he would be declared the winner, which came to pass. "It, therefore, came as no surprise, when the Synagogue Church of All Nations was the first church he visited in Nigeria, after the Electoral Commission had declared him winner of the 2008 election."
One of the church members of the Synagogue Church who spoke to LEADERSHIP yesterday and gave his name simply as Bro Stephen said, "I cried when I learnt of the death of the Ghanaian president. You see, the man was a very wonderful, caring man who, when he did his thanksgiving in March 2009, did a lot of things for our church. Also, each time he visited Nigeria, he always came to our church and his visit was always felt in many ways.
"All of us members are sad over his death. Our Prophet TB Joshua is even sadder. But what can we do? God knows best, and I know God will comfort each and every one of us, especially his immediate family there in Ghana."
Ghanaians mourn, suspend campaign
Meanwhile, Ghanaians are in mourning following the death of President Mills who was due to seek re-election in December. The country's main opposition party announced yesterday that it was suspending its campaign during a period of national mourning.
Vice President John Mahama was sworn in late Tuesday only hours after Atta Mills passed away, underscoring Ghana's democratic stability and maturity. No public announcement has been made yet on the cause of his death or funeral arrangements.
Atta Mills was elected in a 2008 runoff vote that was the closest in Ghana's history.
But questions over who will now step into Mills' shoes as the candidate to keep his governing National Democratic Congress (NDC) in power in December's elections will inject some uncertainty into the political outlook.
Mills, seeking a second term despite having suffered for years from undisclosed health problems, had already won his party's nomination to run against the opposition New Patriotic Party's Nana Akufo-Addo, defeating a divisive challenge from the wife of still influential ex-president Jerry Rawlings.
Some analysts expect Nana Konadu, Rawlings' wife whom Mills crushed in the NDC primaries, to claim an automatic nomination.
But Alban Bagbin, Ghana's health minister and a member of the NDC legal team, said the party would hold an extraordinary meeting to pick a new candidate for what is expected to be a tight race for the presidency.
Flags flew at half mast yesterday as the nation began a week of national mourning for Mills, who had served as president since winning a 2008 presidential contest that won plaudits for going down to the wire but remaining peaceful.
"I am personally devastated. I've lost a father, I've lost a friend, I've lost a mentor and a senior comrade," Mahama said in his first comments after being sworn in before a somber parliament on Tuesday evening. "The fine gentleman that he was, President Mills rightly earned the title 'Asomdwehene' (King of Peace). He brought a distinctive insight to Ghanaian politics. He remained humble, honest and modest throughout his years in public service."
That sense of loss was shared by ordinary Ghanaians too.
Tributes poured in from around the globe from heads of state like US President Barack Obama, who had feted Ghana under Mills as a model and "good news story" for Africa.
Rivals were quick to praise the nation's handling of the sudden loss. "We are showing a maturity that must encourage all Ghanaians," said opposition NPP chairman Jake Obetsebi-Lamptey.
Mahama, fresh from a US tour to promote a recently published personal memoir on Ghana's history, is widely expected to maintain current policies in his caretaker role.
Yet, amid the plaudits for his predecessor, he will inherit the same struggles Mills had faced in managing Ghanaians' high expectations over the flow of crude from the country's Jubilee oil field since 2010, and in tackling corruption scandals that have dogged the NDC administration.
Originating at www.leadership.ng