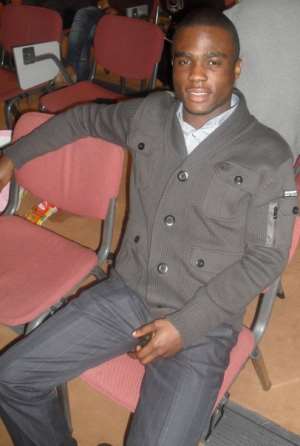 Former President John Evans Atta Mills at the time of his death left behind a son, Mr. Sam Kofi Atta Mills.
As Ghanaians still mourn over the death of H.E. J.E.A Mills, a lot of condolences have been directed to his immediate family mainly to his wife- Dr. Mrs. Ernestina Naadu Mills. Many people tend to forget the only son of the late president, Sam Kofi Atta Mills. It is not entirely surprising though as Sam Mills as a person has a particularly laid-low lifestyle.
Not much is heard of him in the media and from his social and private life. The mother of Sam Mills, Madam Ruby Addo is also not someone who is widely known in the country. What is known of her is that she was a student of President Mills in sports (hockey) at the time they met.
Sam Mills lives in London, United Kingdom and schooled at the Anglia Ruskin University. He has now completed school and handles projects for a firm in Ghana. He is believed to be in his early 20s and is described by his peers as a very humble and gentle person. For over a year now, Sam has been in Ghana and has engaged in some voluntary activities whiles spending some time with his father as well.
In Ghana, he has lived with the former first lady, Naadu Mills and made a lot of travels with her in sharp contrast to media reports that the first lady rejected him fiercely whilst his father lived. Though he lost his dad, he disclosed to our source that he cherished the moments with his dad and will love it if Ghanaians focused on celebrating his dad and not the supposed neglect by his immediate family.
Much effort is being made by Focusghana.com get to a personal interaction with Sam Mills. Our readers will be kept up to date on his activities in subsequent publications. But for now let us remember him in our prayers and express our best wishes to him.
N.K. Adjei
[email protected]