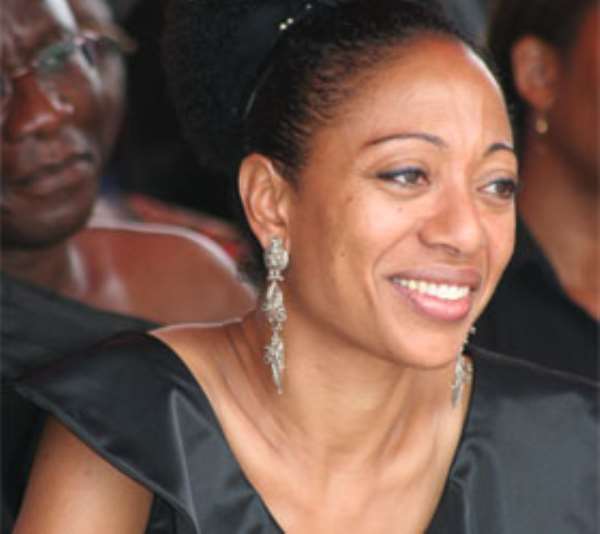 Accra, July 26, GNA – Ms Yaba Samia Nkrumah, Leader of the Convention Peoples Party (CPP) on Thursday shared in the grief of Dr Naadu Mills, for the passing away of late President John Evans Atta Mills.
A statement to the Ghana News Agency in Accra signed by Ms Nkrumah on behalf of the party said "coming from a political family myself, a family which has suffered from the repercussions of political violence, I fully appreciate and empathise with the challenges they are going through at this difficult time.
"The Mills family can rest assured that his sacrifice in the service of his country shall not be in vain. Above all he left us a legacy of political tolerance and self-discipline in dealing with opponents inside and outside his Party".
Ms Nkrumah noted that Ghana urgently needed this spirit of patience and calmness in the conduct of its political affairs.
"As a daughter of Osagyefo Dr Kwame Nkrumah, and an Nkrumaist by conviction I particularly want to acknowledge and recognise the vital role President Mills played in honouring our father and highlighting the vision he lived and died for – creating the conditions for every Ghanaian to lead a dignified life.
"I recall with gratitude how President Mills led the campaign to have the African Union (AU) declare 21 September 2009, our fathers 100th birthday, a day of celebrations in all member states.
"Equally important it was President Mills' decision to have a year-long centenary Birthday celebration in Ghana. This was in partnership with the AU. The year-long activities have gone a long way in informing our youth about how Kwame Nkrumah started to put us on the road to self-reliance, industrialisation and social justice".
The statement also acknowledged that President Mills also through an Executive Instrument declared Kwame Nkrumah's Birthday a statutory public holiday in Ghana.
"It was indeed President Mills himself who defied critics and backed the issuance of the new two Cedi note featuring a prominent image of Kwame Nkrumah.
"I also cannot forget the gentle presence of President Mills as my senior brother, Professor Francis Nkrumah and I stood beside him to unveil our father's statue outside the new Africa Union building in Addis Abba earlier this year," Ms Nkrumah stated.
The CPP Chairman noted: "For me and many Nkrumaists, we will forever remain grateful for these significant and far-reaching steps President Mills took to honour Kwame Nkrumah.
"On a personal note, I am happy to publicly acknowledge my heartfelt gratitude to President Mills particularly in the light of my gently rejecting his direct requests for an alliance with the NDC in Parliament after the 2008 elections. He did not take this personal but went on to do what he wanted to do for Kwame Nkrumah.
"Ghana has indeed lost a fine President who served his nation with humility and dignity. May the soul of President John Evans Atta Mills rest in perfect peace.
"May God's peace and comfort be with all Ghanaians. Let us in these moments and in the days ahead remain calm, and show the whole world that we are a composed Nation, a dignified Nation, whose people know when to stand together, how to respect each other and how to love each other".
GNA